DATE:

AUTHOR:

The Narmi Team
All Updates
Consumer Digital Banking
Business Digital Banking
Admin Platform
Add Your Own Third Party Apps in a Self-Service Manner
DATE:
AUTHOR: The Narmi Team
Narmi believes that modern banking is built on open platforms. That's why we built the Narmi Application Framework (NAF), an application layer and flexible framework that gives financial institutions a low-code method for building integrations. This month, we've developed a way to make adding and managing third party applications to be a self-service experience, so that you have even more flexibility and control over your digital roadmap. 
What is the NAF? 
The Narmi Application Framework lets you create an "all-in-one" digital banking experience by allowing you to extend the Narmi platform and add third party applications to your digital banking platform. 
Gaining more control over adding, editing, and deleting NAF applications
Financial institutions and authorized third party developers will now be able to add, remove, or update their applications within the Admin Platform. This self-service functionality doesn't change how the Narmi Application Framework functions; it just puts more power in your hands to be in charge of the process.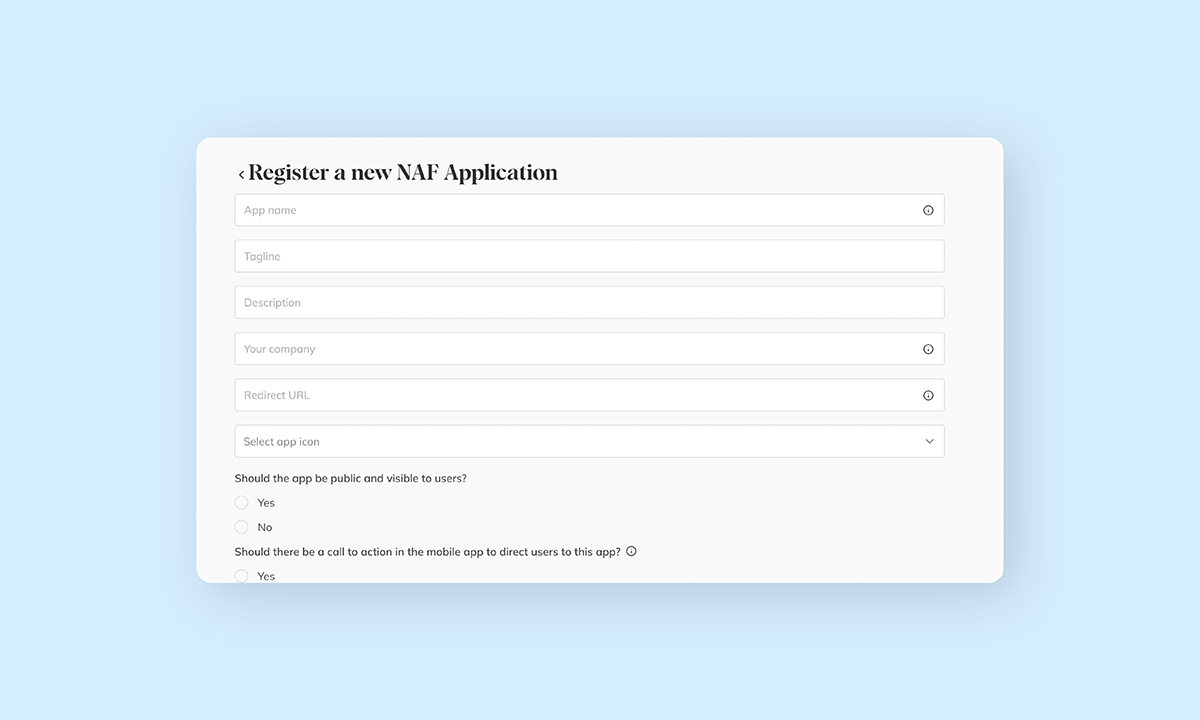 Here's why we did it:

It saves you time and money. Our previous process required you to work with Narmi support around requirements, testing, and approvals. We knew we could make this process easier, all the while maintaining the same degree of reliability. This new process is designed to avoid any wait time by removing the middleman, allowing you to allocate your time and resources to other growth opportunities.
Gives you flexibility and control. This new process truly lets you operate on your own timeline, by allowing you to easily bring on third parties whenever you need. You can give a vendor access to Narmi's information and endpoints with just a few clicks. There is no added fee and or hidden review process by the Narmi team. We're here to support you if you need it, but we're removing as many roadblocks as possible.
Power over role-based permissions. We've also added role-based permissions to the NAF that allow you to give individual levels of access to staff users and third parties, allowing them to edit, add, or delete applications. Through this tool, you can give a third party access to manage a specific app integration within the staff portal, without giving access to any other NAF apps that you may not want them to have access to.
Check out the video here to get an in-depth understanding of how this works.