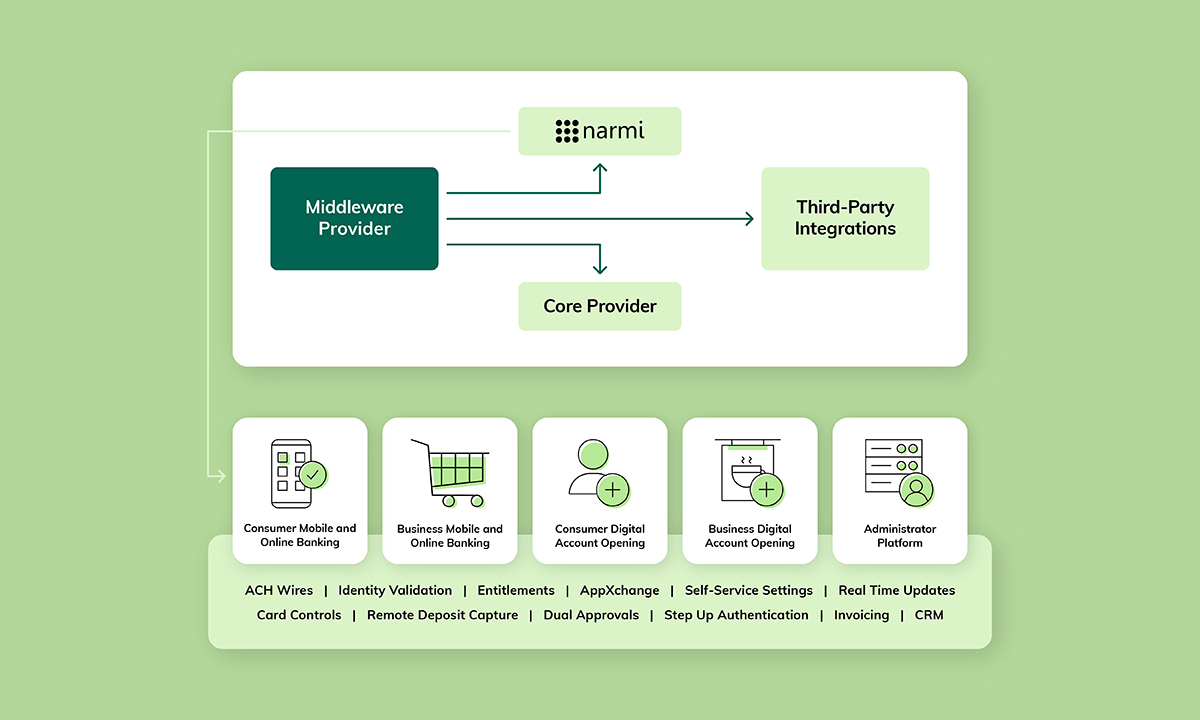 DATE:

AUTHOR:

The Narmi Team
All Updates
Digital Account Opening
Consumer Digital Banking
Business Digital Banking
Admin Platform
Bridging the gap between systems with middleware
DATE:
AUTHOR: The Narmi Team
As consumer expectations in digital banking continue to rise—from multiple products, instant alerts, 24/7 customer service access and more— meeting those demands requires detailed coordination of every system in an organization.  However, most software systems weren't designed to all integrate together. 
You might be asking yourself: how can I keep my systems organized and streamlined while also avoiding costly and binding integrations? How can I create new value for both my back-end staff and my users?
One answer is middleware. This is software that allows financial institutions to unify access to various back-end systems through a consolidated connectivity layer. It's an option for financial institutions that are looking to streamline the front and back-end user experience, reduce reliance on their core provider, and scale. 
Narmi's focus is on direct-to-core integrations, but if, for any reason, your financial institution is looking to implement a middleware strategy, our open platform is designed to support this.
What is middleware? 
Middleware is software that unifies access to various back-end systems (i.e. applications, tools, databases) to provide seamless services to users on the front and back end.
The core concept of middleware architecture is that various applications can connect with each other by putting a communication layer between them. They are able to "talk" to each other through modern REST APIs and connectors. This decouples systems from each other, allowing them to communicate without dependency on or knowledge of other systems on the layer.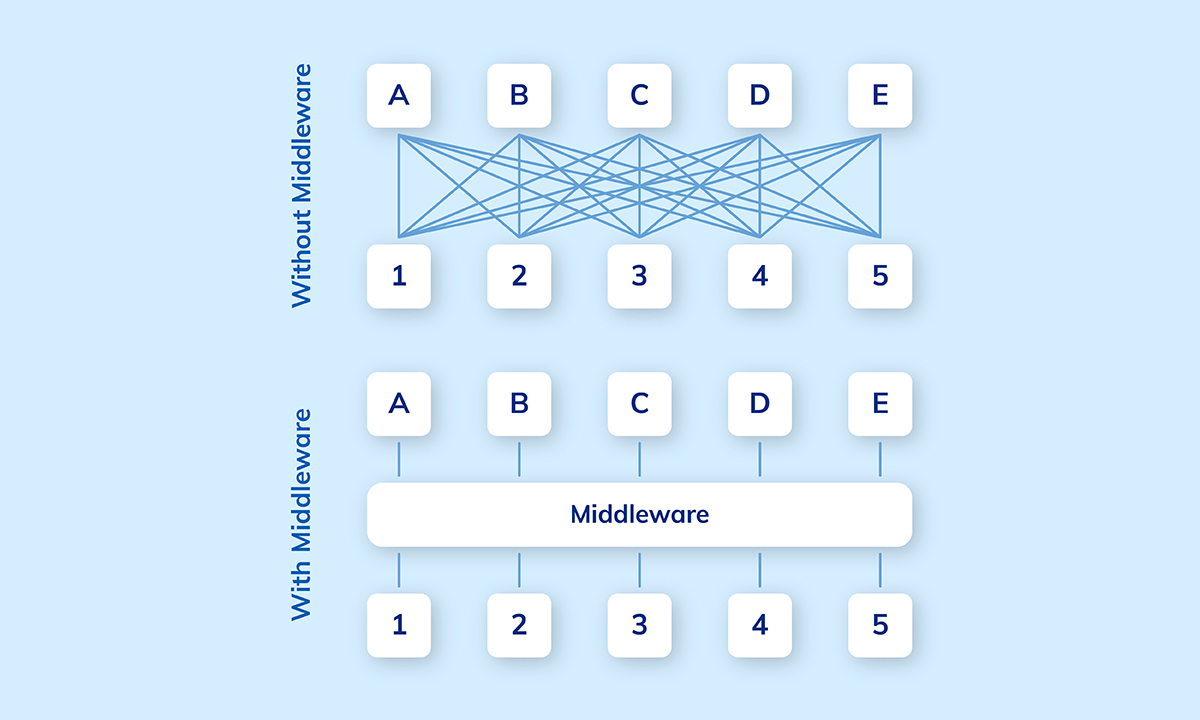 What are the benefits of middleware?
Reduce reliance on the core. Since all applications are connected via that middle layer, middleware offers a "plug-and-play" solution to integrating various software systems. An analogy is an adapter cable. For example, a laptop connector might be disconnected, and instead, a phone connector plugged in. The middleware layer is the adapter cable and the phone or laptop is the third-party application. In the event of a core provider replacement under a middleware strategy, all third-party applications will remain independent and will not be affected by the transition. 
Innovate and move fast. With all third parties connected via the middleware layer, middleware puts you in control of the data from the core and third parties. This gives you the power to integrate new applications and make changes on your own timeline without waiting on your core provider. When evaluating your holistic tech stack, middleware can be a long-term path to more efficiently enabling fintech partnerships. 

Save your staff time with instant alerts. Working as the middle layer between systems, middleware aggregates all the data across platforms. This allows for real-time updates that your staff doesn't have to turn on manually. With your team freed up from excessive maintenance activity, they'll have more room to innovate. Middleware makes the following updates possible within Narmi's digital banking:
Personal information updates (change of address, phone, email)

Updates to balances across credit and debit cards

Real-time alerts to users
How does Narmi support middleware?
Narmi's focus remains direct-to-core integrations. We integrate with most core banking systems and boast industry-shattering implementation timelines as a result. However, if your financial institution is looking to implement a middleware strategy, Narmi is able to fully support you. How?
Open API framework and flexible deployment methods. Our open platform makes it as easy on financial institutions and middleware partners as possible. We even make our middleware documentation public-facing. This document is designed to facilitate easy middleware integrations with Narmi's Digital Banking and Account Opening platforms.  

Partnerships with leading middleware providers. Narmi has developed middleware partnerships with leading industry providers, so we are able to walk you through the entire process end-to-end. We are open to working with any middleware provider and if you have a specific provider in mind, we will work with you. 

Experienced implementation team. We leverage our wealth of expertise in direct core integrations to support a successful middleware integration. Our team is experienced in middleware integrations and can provide best practices, from choosing an on-shore developer to finding a provider certified on your core.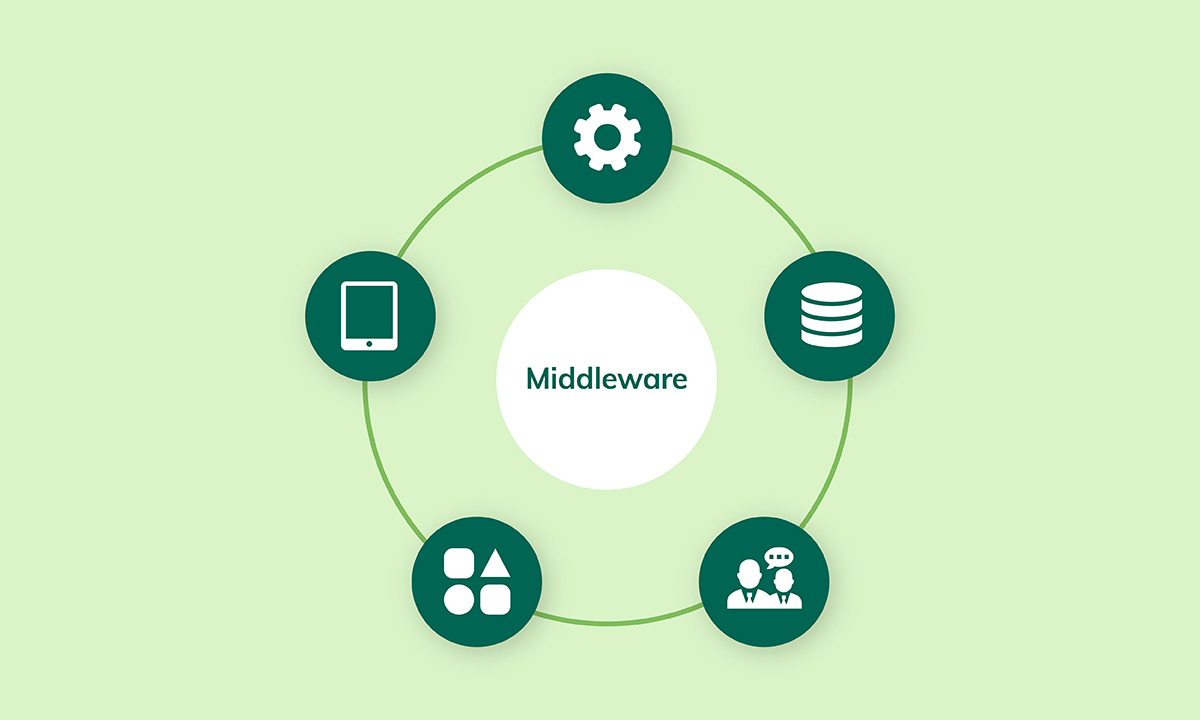 Narmi co-founder Nikhil Lakhanpal recently participated in a FinXTech Xchange discussion on middleware, where he discussed how financial institutions can connect and innovate faster with experts in banking and middleware. Watch the webinar here. 

To learn more about middleware, please visit our webpage or reach out to your Narmi Representative.