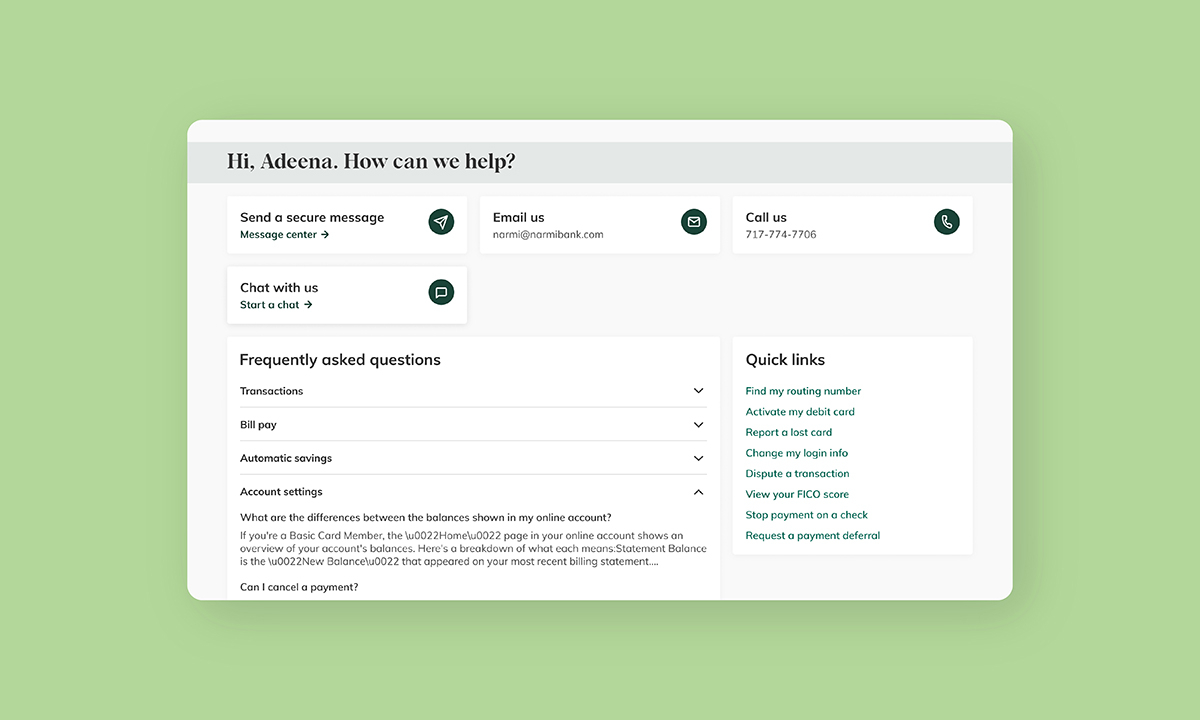 DATE:

AUTHOR:

The Narmi Team
All Updates
Consumer Digital Banking
Business Digital Banking
Admin Platform
Introducing the Support Hub: A Self-Service Experience
DATE:
AUTHOR: The Narmi Team
We're excited to announce our new support hub as part of our digital consumer and business banking platforms. This new self-service hub is designed to help your users find the answers they need quicker and steer them to the support channels they prefer, in turn speeding up your team's ability to resolve urgent issues.
Why create a support hub?
The guiding principle behind the support hub is a personalized omnichannel strategy that's designed to be inviting and offer people multiple options for finding answers. For simple tasks, surveys have shown that a majority of people prefer to find the answers themselves and rarely struggle to find the information they need when presented with a support portal. This approach also allows institutions to steer support traffic away from slower channels – like phone support and email – and instead to relevant knowledge base resources.
A Self-Service Approach
Our solution was to develop a self-service approach – one that meets the customer and member where they are and empowers them to choose the form of contact that works best for them. Some highlights:
Easy communication with a new message center. People can start a support conversation where they can explain the issue they're needing help with, attach relevant documents, and even assign the message to a specific department within the financial institution.

Empower them to find answers quickly with FAQs and Quick Links. Having information in this centralized location is also helpful in providing more explanation around your features or in surfacing educational content, like providing relevant loan and assistance information to businesses seeking PPP loans.

Customize with Institution Settings. In the Narmi Admin portal, FIs can customize the support hub (channels and content) presented to users without ever having to reach out to Narmi.
Read more about the support hub on the blog: Introducing the new support hub experience
Watch the video below where we walk through the support hub end-user experience: