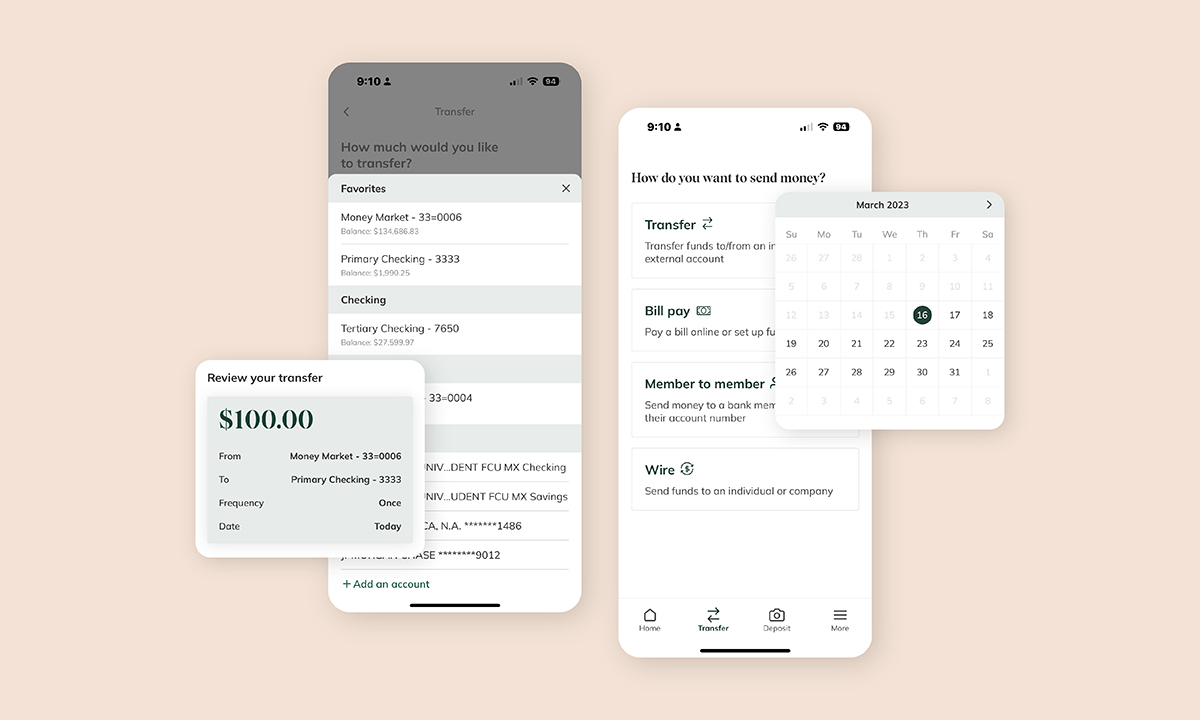 DATE:

AUTHOR:

The Narmi Team
All Updates
Consumer Digital Banking
Business Digital Banking
Mobile Money Transfer Enhancements
DATE:
AUTHOR: The Narmi Team
As a financial institution, the efficient and reliable transfer of money is one of the most important experiences users can be offered. As users are increasingly relying on their mobile devices as a means to manage their money, it's crucial to reduce any points of friction so that a user can complete the desired action as quickly as possible. A frustrating mobile banking experience can discourage users from using your financial institution as their central hub for money management. A user-friendly and seamless experience, however, can lead to an increase in deposits, greater efficiency, and loyal patronage, which is why it is critical to prioritize the design and usability of the way money is transferred, especially on mobile. 
Recognizing the importance of this experience, Narmi has recently made significant enhancements to the money transfer experience on mobile. The focus has been on simplifying the user experience, adding key explainers and visual guides, and updating user interface components. Additionally, Narmi has expanded its integration with Zelle, allowing financial institutions using the JHA Paycenter to implement Zelle directly within their banking platform.
By implementing these enhancements, Narmi aims to improve your users' overall mobile digital banking experience and allow them to move their money, wherever they are and whenever they want.
Simplicity
To reduce confusion and speed up users' workflow, we decided to combine quick and scheduled transfers under one "Transfers" option. If a user wants to perform a quick transfer they can forgo selecting the date, as the default option is "today". If a user wants to schedule a transfer, they can easily select the date they'd like to execute the transfer from the drop-down calendar.
Text in certain areas has been increased in size and drop-down menus have been replaced with sorted drawers, including checking savings, and external drawers. This new layout provides a clearer hierarchy, allowing users to always view their available balance, regardless of the length of their account names.
Explainer and Visual Guides
One of the key features of the updated mobile money transfer screens is the new review screen. Users now have the option to see their transfer details in a review screen before submitting their transfer. This update was implemented after users strongly preferred seeing their transfer details in a review screen before submitting, as opposed to in a confirmation screen afterward.
In addition to the review screen, we added text to guide users when they're adding a new account or payee, whether it's through instant verification or manual verification. The new copy helps to build a narrative that guides the user through the process, answering implicit questions they might have and helping them transfer their money faster.
Addition of Thoughtful UI Improvements and Premium Touches
Narmi has implemented a modern UI that is both visually appealing and accessible. When picking a date for a scheduled transfer, selectable calendars are now available, allowing users to view the day of the week they'd like to send for all transfer types. Premium touches have also been added, such as loading/success animation, haptic feedback throughout, and tool tips. 
Zelle
To accelerate faster, easier payments across the user experience, Narmi has extended its integration with Zelle for users using the JHA Payment Center, adding even more functionality to our payments center. As instant P2P payments become more important in today's modern banking world, it's important for Narmi to provide the modern P2P payment options that today's users have come to expect. If you're interested in implementing this in your banking platform, please contact your GM for more information.
---
Watch our video below to get a live look at how the mobile money transfer enhancements will show up on your platform.