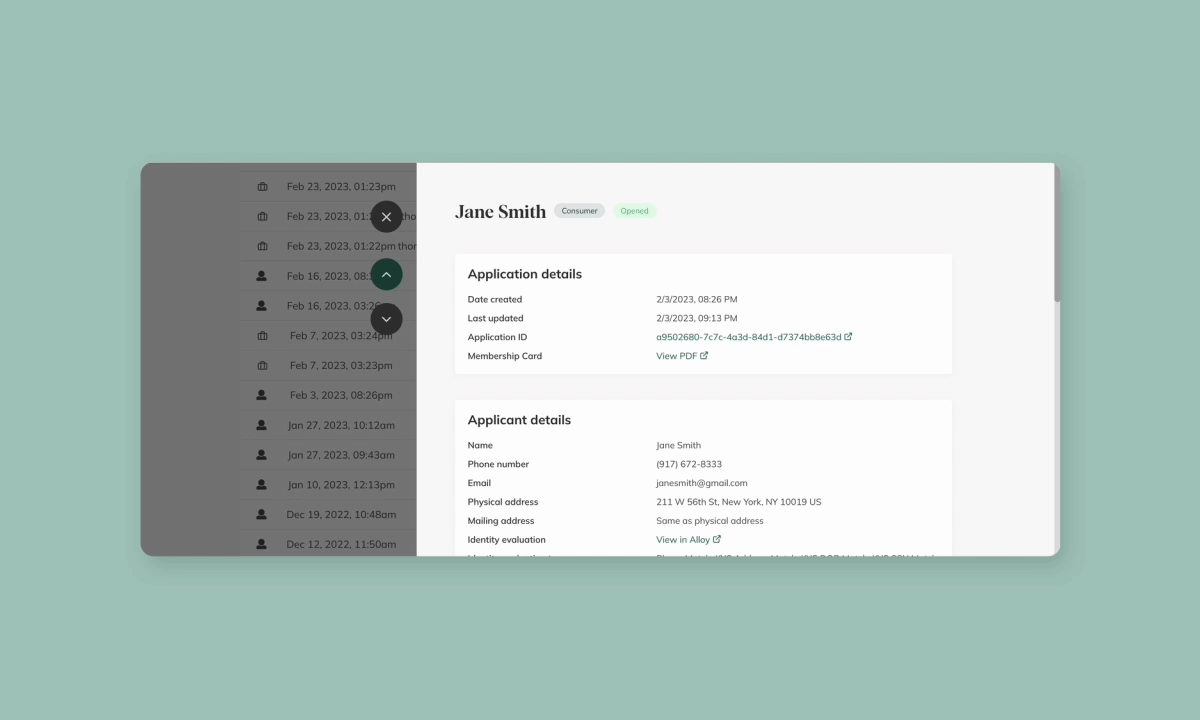 DATE:

AUTHOR:

The Narmi Team
All Updates
Digital Account Opening
Admin Platform
Process Makes Perfect: Streamlined Account Opening Application View
DATE:
AUTHOR: The Narmi Team
Efficiency and user-friendliness are paramount in today's fast-paced environment. Even the smallest improvements to workflows can yield substantial time savings, reducing redundant tasks and enabling employees to focus on things that drive higher value, like innovation and providing exceptional customer and member support.
For those reasons, Narmi has made visual and functional improvements that will dramatically reduce the time staff members spend reviewing applications.
What is the application view?
In Narmi's account opening admin platform, the application view is a central hub where staff members can access and review all applications. More specifically, it's a table that showcases all the information from each application that comes into a financial institution. Once an application is submitted, staff can go to the application view to review the applicant's personal information, Alloy identity evaluation tags, supporting documents, funding information, and more. 
Why did we enhance our application view?
Our customers provided feedback, highlighting opportunities to optimize the application view experience. They noted that opening each application in a separate tab added extra time and effort to their daily workflow. 
With that in mind, Narmi brainstormed and implemented creative ways to improve the workflow, cutting down time for staff wherever possible. 
We made three key enhancements to the process:
View all applications in a single tab Instead of having staff open each individual application in a new tab, we redesigned the application view so that each application opens in a pop-up navigation drawer within the same window. This gives staff the ability to quickly switch between applications by closing the drawer and selecting a different application. 

We also added a new line on each individual application that lists the Alloy identity evaluation tags for the applicant, ensuring that staff can see all applicant information at a glance without having to link out to Alloy in a new tab.

Quickly switch between applications with toggle functionality We've added the ability for staff to quickly alternate between applications in the navigation drawer by using the arrow keys. This alleviates staff from having to close out of each application and instead lets them toggle and compare applications with ease.


Get a better understanding of the applicant at a glance We implemented visual enhancements that make it easier for staff to quickly digest the applicant's profile. All information is now listed vertically in clearly defined sections with a visual hierarchy that guides the viewer through all the applicant's details.
Watch the video below for a detailed walk-through outlining all of the enhancements we made to Narmi's application view: