DATE:

AUTHOR:

The Narmi Team
All Updates
Digital Account Opening
Admin Platform
Business Account Opening
Product List Manager: Your all-in-one tool to manage product offerings
DATE:
AUTHOR: The Narmi Team
When it comes to creating the best user experience for both end users and staff, Narmi is always thinking about new tools to enhance workflows. This month, we're excited to introduce the latest addition to the Admin Platform – the Product List Manager. This tool empowers staff to seamlessly add and modify products within the account opening flow for both consumers and businesses, quickly, easily, and independently. 

Why did we build the Product List Manager?
We built this tool because we understand that financial institutions often struggle to make updates or add entirely new products to the account opening flow. The traditional process of liaising with vendors for such updates is not only time-consuming but also can hinder the ability for financial institutions to quickly capitalize on opportunities such as offering the latest rate, or an untapped CD strategy. We set out to ensure this wasn't the case for Narmi customers. 
What is the impact of the Product List Manager?
We built a tool that allows staff to add and update products in real-time—without having to rely on external vendors. The Product List Manager gives staff autonomy over this process, enabling a better staff experience that can lead to greater retention. It also allows financial institutions to capitalize on shifting deposits by offering the latest and greatest product offerings and rates. Here are the highlights of the Product List Manager:
Add products quickly and easily.
This tool enables staff to seamlessly add a range of account opening products such as Checking, Savings, Money Market, CDs. The process is guided and highly intuitive, allowing staff to effortlessly select the product type and enter its name and details via text form fields.  All product settings, from minimum and maximum balances, to recommended flags, and customizable disclosures, are conveniently managed within the workflow, offering staff full product customization capabilities.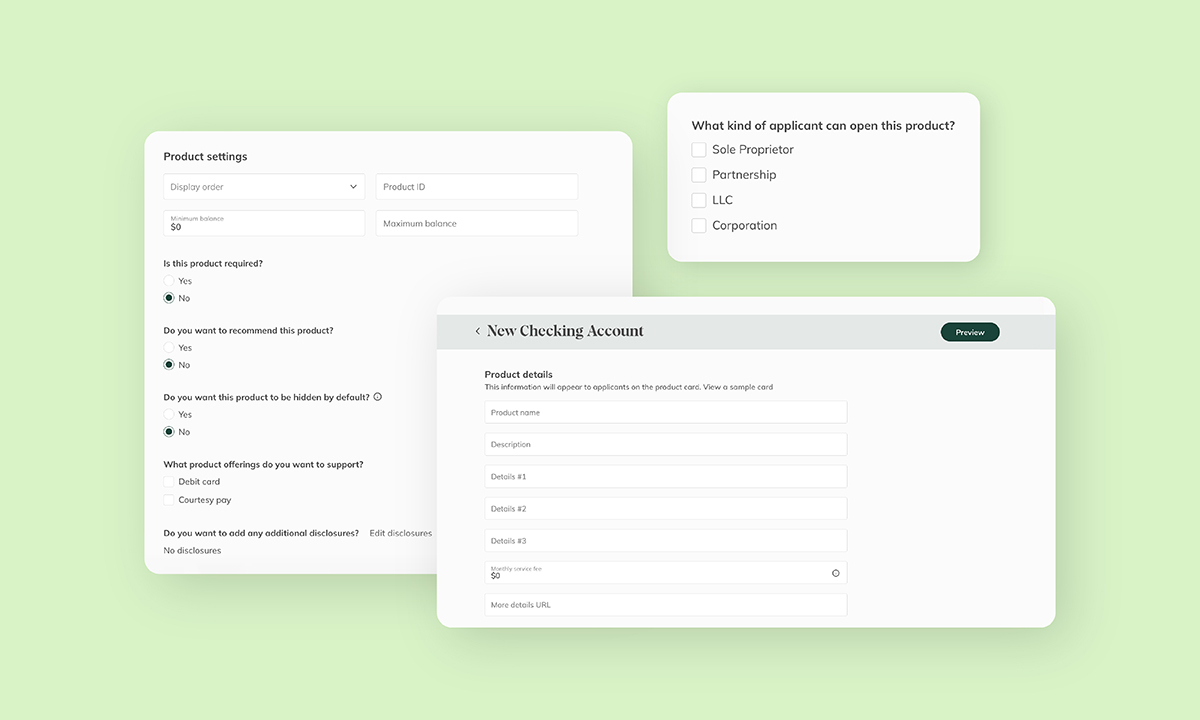 Control existing products with the click of a button. 

The Product List Manager works not only to introduce new products but also to elevate and refresh existing offerings. Whether it's a minor interest rate tweak or an adjustment to a product disclosure, the tool enables effortless updates to current products. Staff can easily control if a product is "active" (live to end users) or "inactive," giving financial institutions full control over product availability and timing.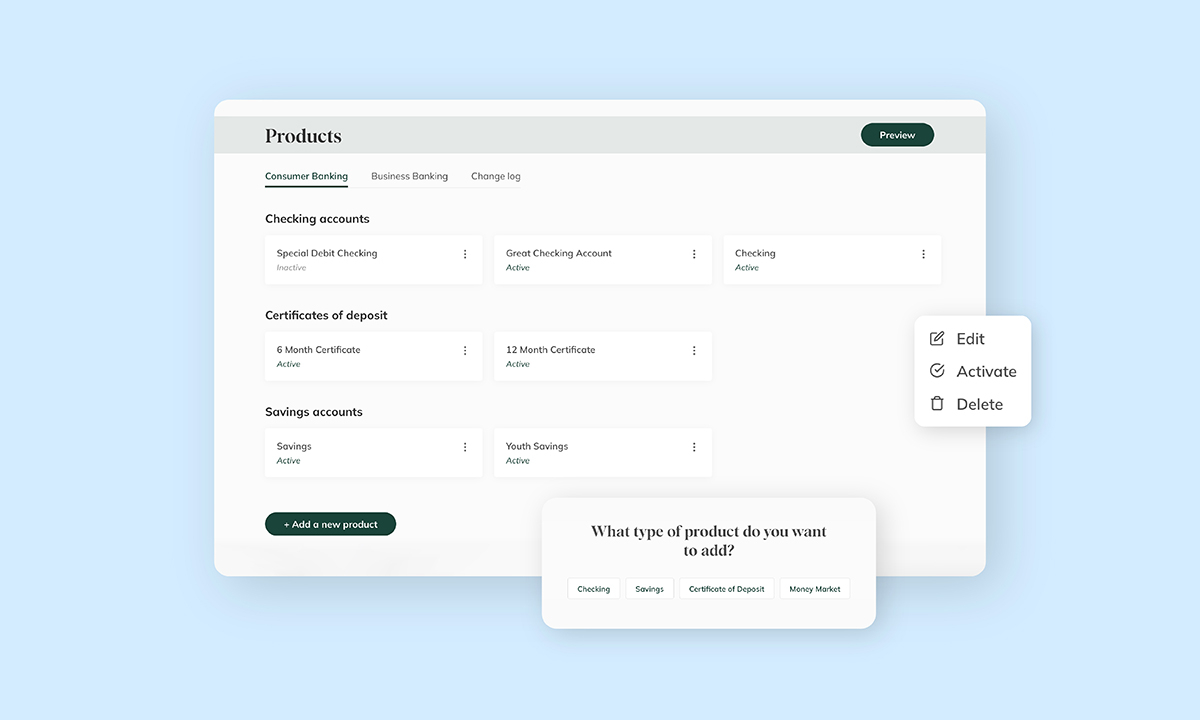 Keep track of all changes and manage permissions.
Recognizing the importance that products hold in the account opening process, Narmi has built the Product List Manager with comprehensive oversight capabilities. Before staff can add a new product using the tool, there are a series of confirmation checks that guarantee the product's readiness for launch. Additionally, we've built a change log that meticulously documents each addition and modification to all products, with details such as the date, time, user, and specific notes on each product update. Moreover, financial institutions can apply permissions to this tool, giving exclusive access to the Product List Manager to designated staff members.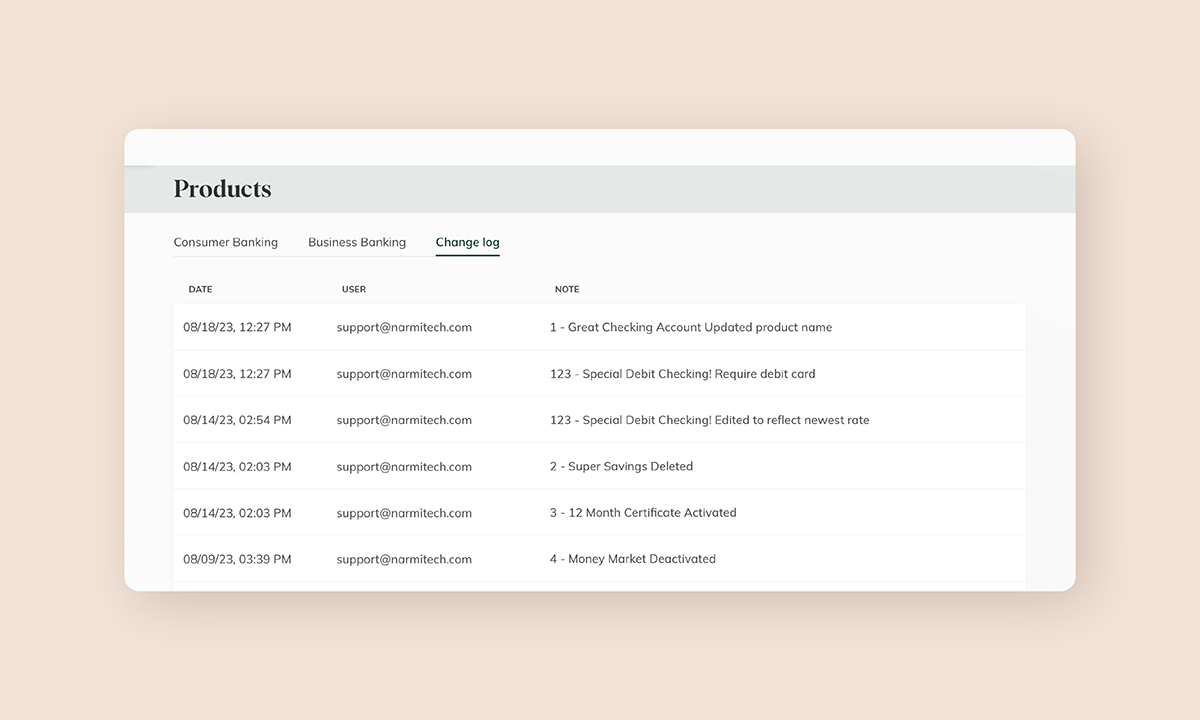 Check out the video walkthrough to get a full deep dive into the product. 
As deposits continue to remain up for grabs, the Product List Manager works to empower financial institutions to operate more efficiently while also offering the most appealing products and rates.