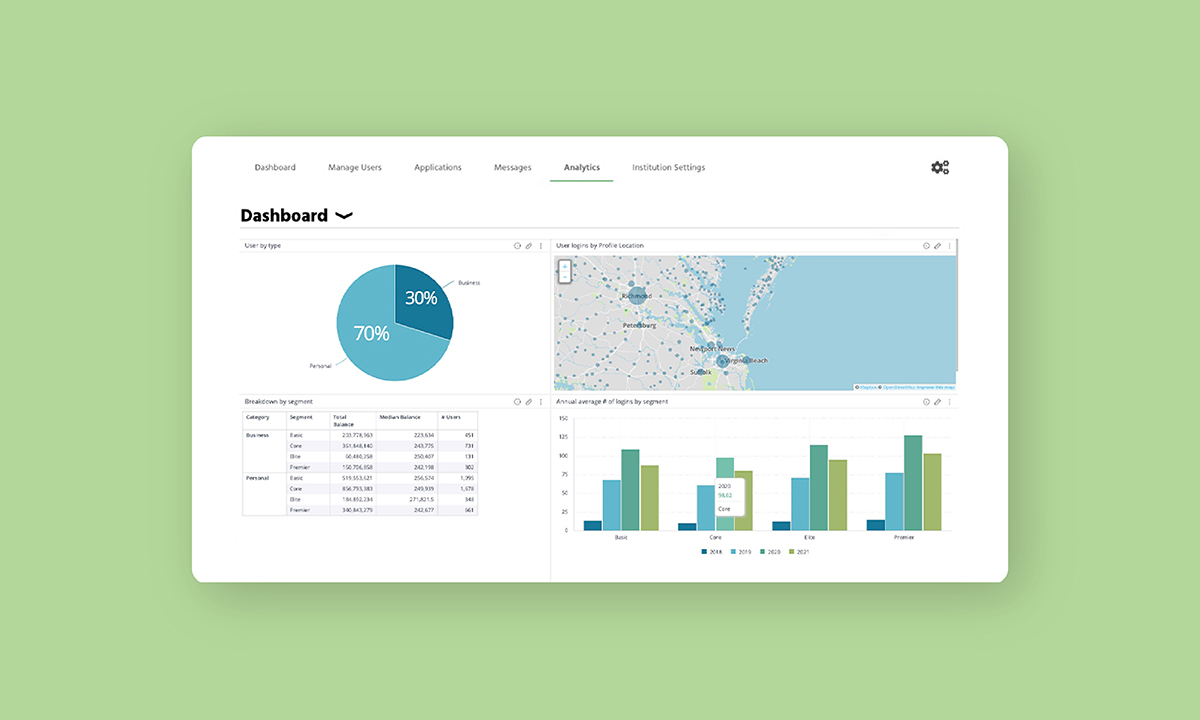 DATE:

AUTHOR:

The Narmi Team
All Updates
Digital Account Opening
Consumer Digital Banking
Business Digital Banking
Admin Platform
Reclaim control over your data with Narmi Analytics
DATE:
AUTHOR: The Narmi Team
Narmi Analytics powered by Sisense gives financial institutions the business intelligence tools they need to unlock the full power of their data, keep up with quickly evolving consumer expectations, identify problem areas, and discover opportunities to grow revenue.
Why did we build a business intelligence tool?
Throughout our research and development of Narmi Analytics, we heard from many financial institutions about their current challenges with data analysis. And while every bank and credit union we spoke with varied in their particular data needs, we discovered a common pain point – a lack of control over what can be done with raw data.
Financial Institutions are flush with sources of proprietary data but struggle to drive business decisions from it when their current reporting tools are limited in data access, unintuitive for non-technical users, or only cater toward one type of user. The result is siloed and non-actionable data that prevents financial institutions from quickly identifying opportunities that could enhance the banking experience.
Through interactive visual dashboards and custom reports, Narmi Analytics aims to help our customers unlock more potential from their data and gain new insights into user behavior. And in this period of evolving customer needs, critical business intelligence can be a powerful differentiator for financial institutions deciding where to make their next investment.
Extract actionable insights with easy to customize dashboards
Building dashboards that help internal teams easily extract helpful insight from their data shouldn't require a deep technical understanding. And yet, many forward-thinking financial institutions are saddled with analytics tools that either require a team of data scientists to build & maintain, or cap the number of dashboards a financial institution can access.
Narmi Analytics empowers our customers by giving them unlimited easy-to-use dashboards that help all internal teams answer their big questions. Many current data solutions for financial institutions only address one particular department's needs – creating narrowly focused products that keep insights siloed. With drag & drop widgets and visual-based modeling, Narmi Analytics aims to break down data silos and make data analysis approachable.
Watch a short video of the experience below:
Narmi Analytics Snapshot from Narmi on Vimeo.
Your Unified Source of Data Truth
As is the case with all our digital products, we put user experience first when developing Narmi Analytics. Through a unified embedded experience within the Narmi Admin Portal, we're able to eliminate the annoyance of having to switch back and forth between separate admin systems.
Additionally, all of the permission and access management to Narmi Analytics is already integrated – reducing the need to grant team members one-off permission to data. And with three different access tiers (Admin, Editor, and Viewer) internal teams can ensure that only the right team members have access to potentially sensitive data.
Learn more about how to unlock the full power of your data and grow with confidence: Watch the webinar