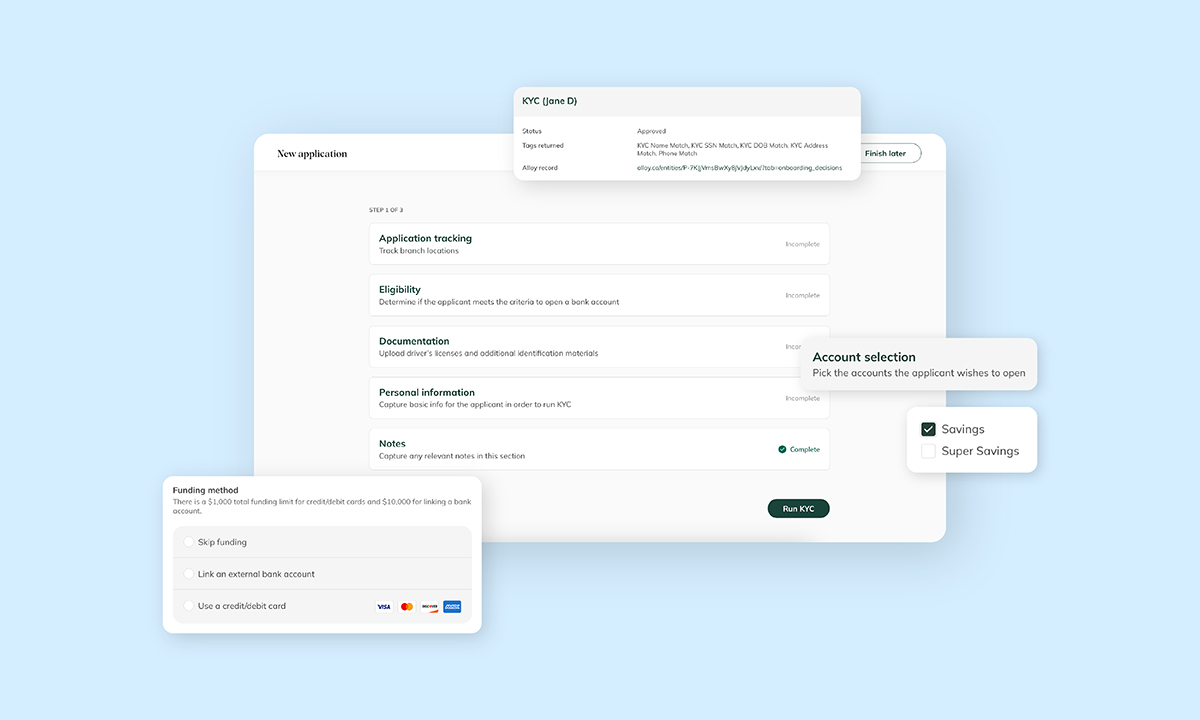 DATE:

AUTHOR:

The Narmi Team
All Updates
Digital Account Opening
Admin Platform
Staff-Led Account Opening: An optimized in-branch experience
DATE:
AUTHOR: The Narmi Team
At Narmi, we recognize the importance of driving deposits from all available channels, and thus continue to invest in our account opening products to ensure financial institutions have every available resource to do so. That's why we're excited to announce the build of our Staff-Led Account Opening product, currently in beta testing, designed to empower staff to open accounts for applicants who come into the branch directly through Narmi's Admin Platform. This tool works to save time and drive deposits, giving staff more ability to focus on the applicant. 
Why did we build Staff-Led Account Opening?
Through research, we learned that some branches were struggling to provide the desired quality of service due to inefficiencies in their in-branch account opening experience. For some financial institutions, the current process of uploading an in-branch application requires manual uploads to the core, clunky interfaces, and frequent toggling between systems. As a result, staff members can spend an average of over 30 minutes per account opened in-branch due to technology constraints. We set out to build a solution that would solve this.
What is the impact of Staff-Led Account Opening? 
Staff-Led Account Opening gives financial institutions the ability to effortlessly open accounts for applicants who come into the branch. Through a streamlined experience that allows for high-touch interactions, financial institutions can seize the expanding opportunity to capture deposits in person, optimize efficiency, and build trust. Here are the highlights of Narmi's Staff-Led Account Opening:


Drive deposits in person with a tool that meets staff expectations.  Free staff from the draining process of manual uploads with an entirely automated process. Narmi's Staff-Led Account Opening makes it easy on staff and the applicant alike, with seamless processes like in-branch funding options of credit/debit card, ACH, or cash/check. We also maintain the ease of our online account selection process with the ability to open multiple accounts at once and quickly toggle on account features like debit cards. Additionally, the product supports frictionless document upload, with all of these tools working to ensure the experience is focused on the applicant, not the process.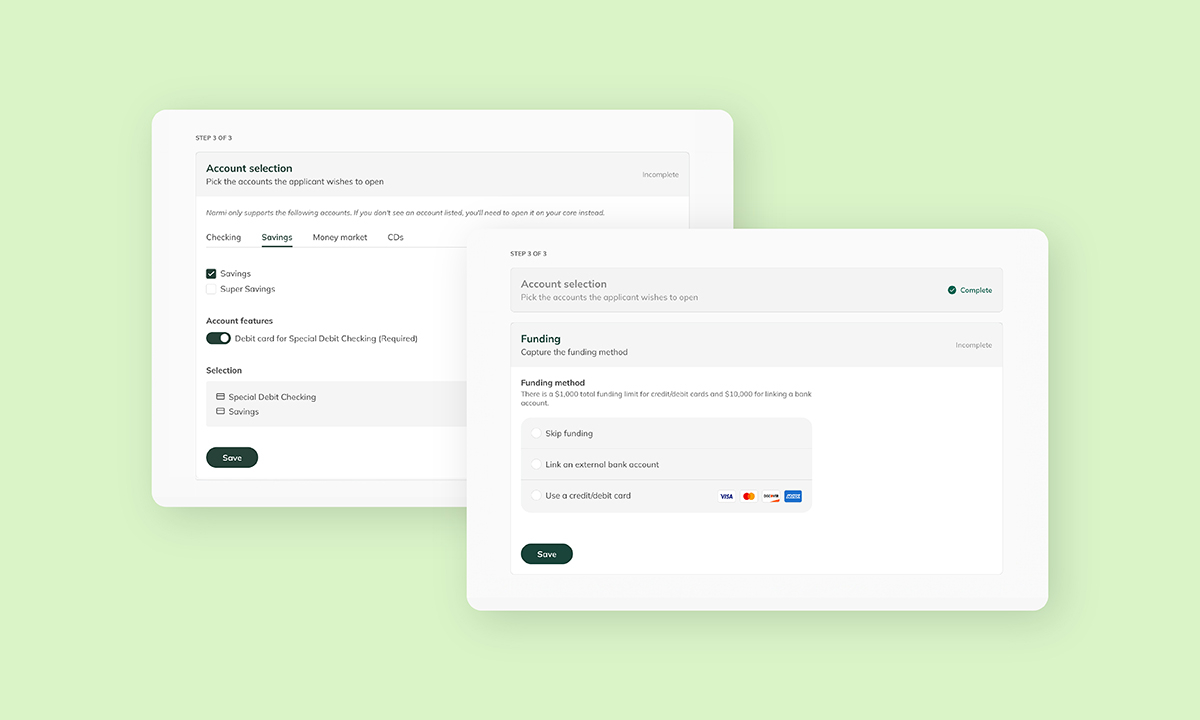 Optimize staff efficiency. Say goodbye to the burden of navigating from the core to identity decisioning tools. Now, staff can manage all components of the in-branch application in a single tool—account opening, applicant tracking, and reporting are entirely embedded into the Admin Platform. Real-time identity decisioning data through Alloy is also presented directly within the Staff-Led Account Opening flow. Staff can easily note the branch location for tracking purposes, and the employee opening the account will be automatically stamped.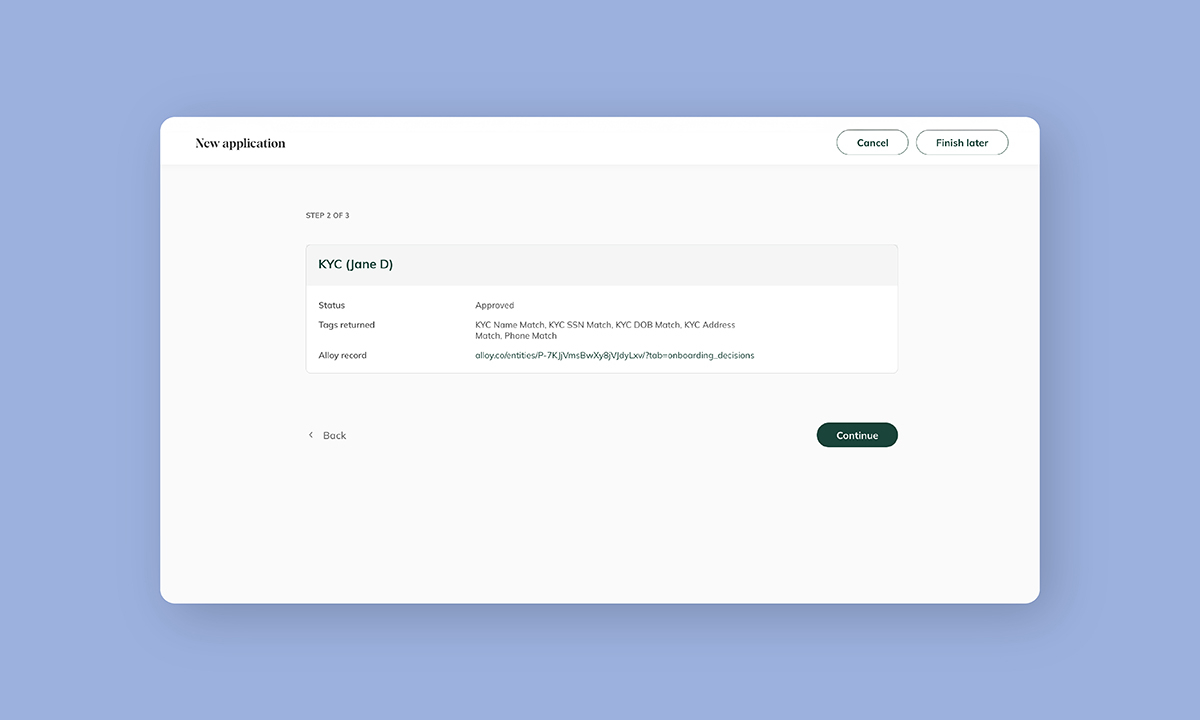 Drive upsell with a personalized touch. Establish credibility with applicants through an experience that's modern, frictionless, and personal. Staff-Led Account Opening allows for an experience truly centered around an applicant's financial needs and gives staff the ability to leave notes on the applicant at various stages throughout the process to encourage cross-sell.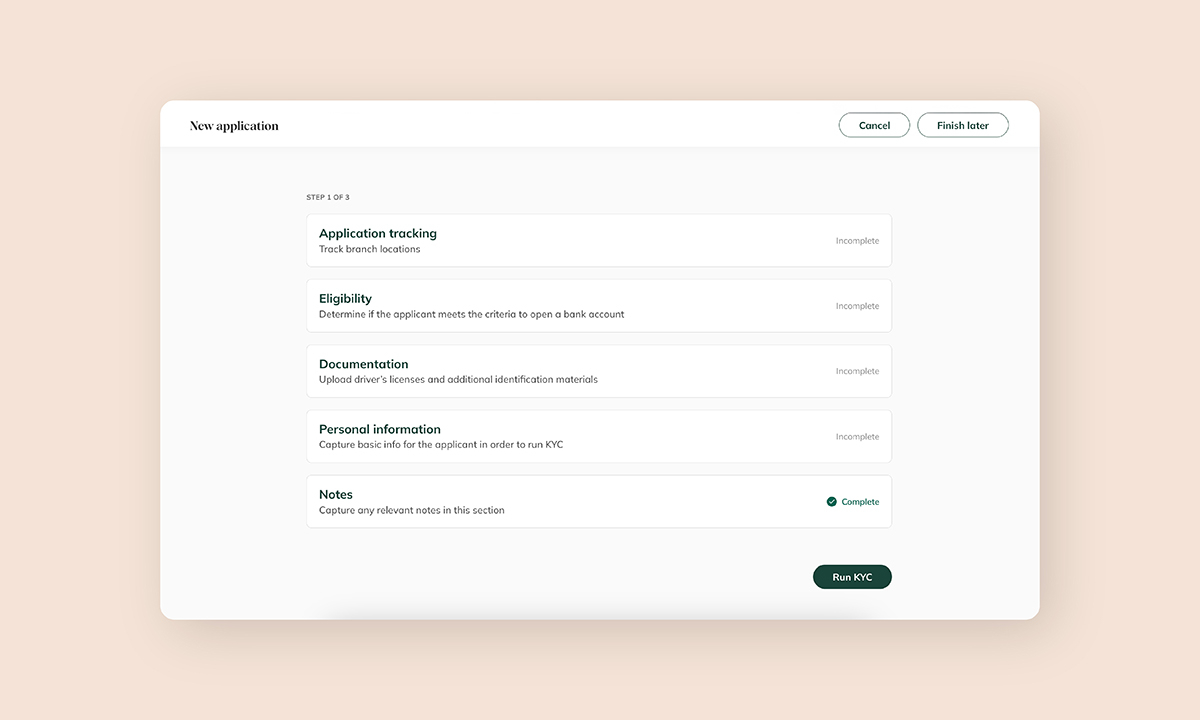 To add Staff-Led Account Opening to your digital strategy, please reach out to your General Manager or schedule a demo to see it in action.