DATE:

AUTHOR:

The Narmi Team
All Updates
Consumer Digital Banking
Business Digital Banking
Streamlining Multi-Check Deposits with Remote Deposit Capture (RDC) Enhancements
DATE:
AUTHOR: The Narmi Team
Effective money management is a cornerstone of the user-financial institution relationship, and it becomes even more critical when users are transferring funds or depositing money into their accounts. That's why we're thrilled to introduce an enhanced Remote Deposit Capture experience this month, designed to simplify and expedite the process of depositing multiple checks simultaneously, delivering a faster and more intuitive user experience.
What enhancements did we make and why?
Take clear, accepted photos with one click
Capturing a check's image with ease and ensuring clarity is the core of the remote deposit experience. We've added a pinch-to-zoom feature for users to verify image clarity and eliminated the need for manual camera switching when moving from the front to the back of the check. These improvements allow users to quickly and accurately photograph checks without returning to the main deposit screen, saving time and streamlining the deposit process.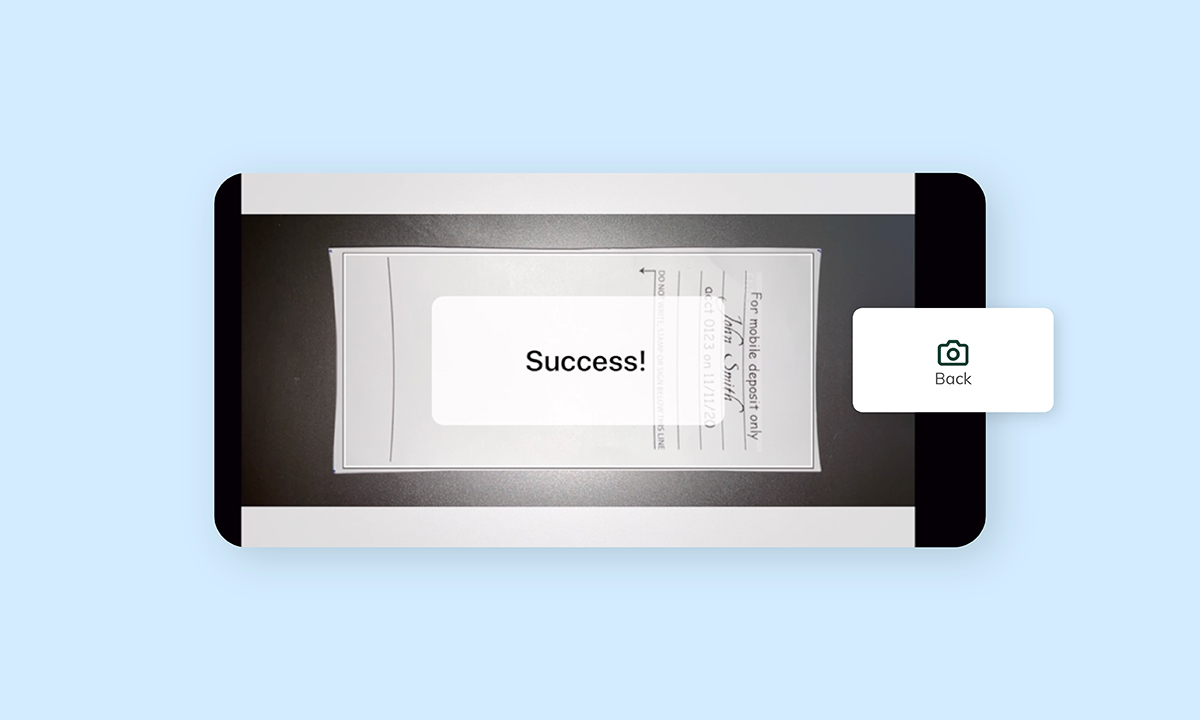 Complete the check deposit flow with confidence
After inputting all the deposit information, users will have the opportunity to confirm their deposit information on a dedicated review screen. This step allows them to verify the accuracy of the deposit details before finalizing the transaction. Upon successful completion of the deposit, we've introduced a convenient button that encourages users to submit another check swiftly, streamlining the process of initiating a new transaction from the start. These enhancements are designed to instill confidence and offer clear guidance throughout the user experience, ensuring they feel secure and reassured when depositing their funds.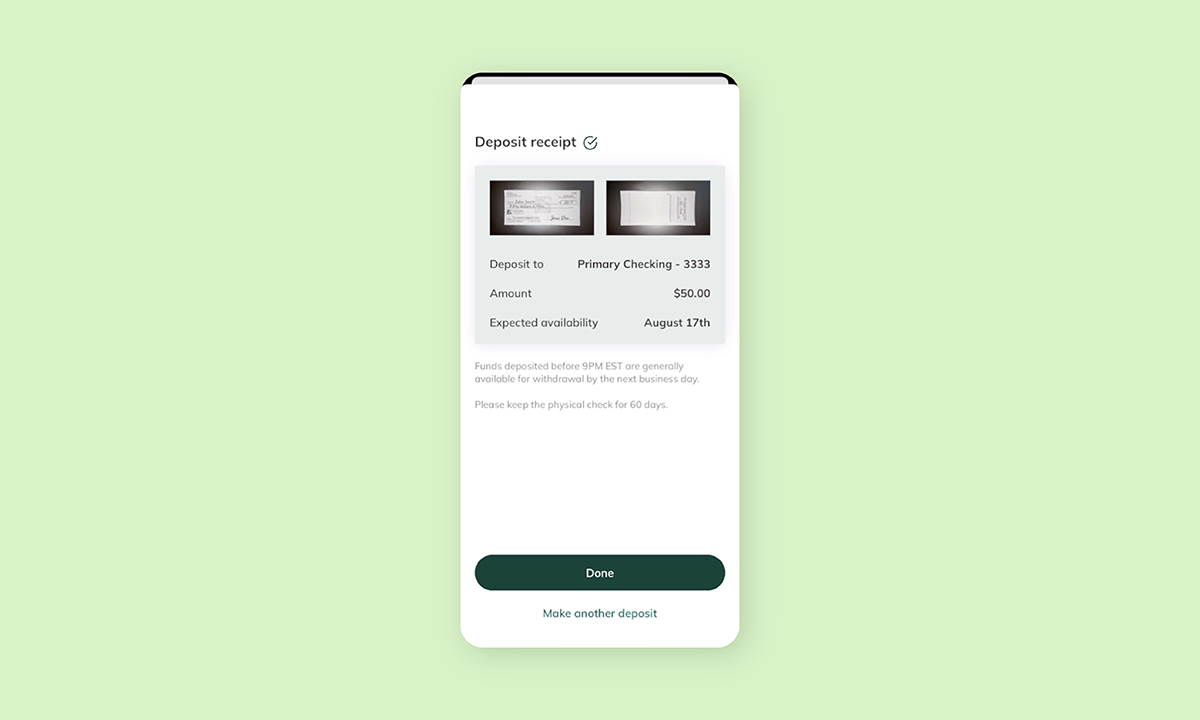 Reduce redundant steps and deposit checks faster.
To boost user confidence and streamline the process, we've consolidated the terms, acceptance, and instructions into a single screen, which is presented to users only during their initial deposit. Throughout the entire flow, users can easily access these details by clicking the "?" icon in the upper right-hand corner. Furthermore, we've enhanced the flow by eliminating the need for users to repeatedly select their preferred depositing account; the system now pre-selects the account used for their initial deposit, making subsequent submissions smoother and more efficient.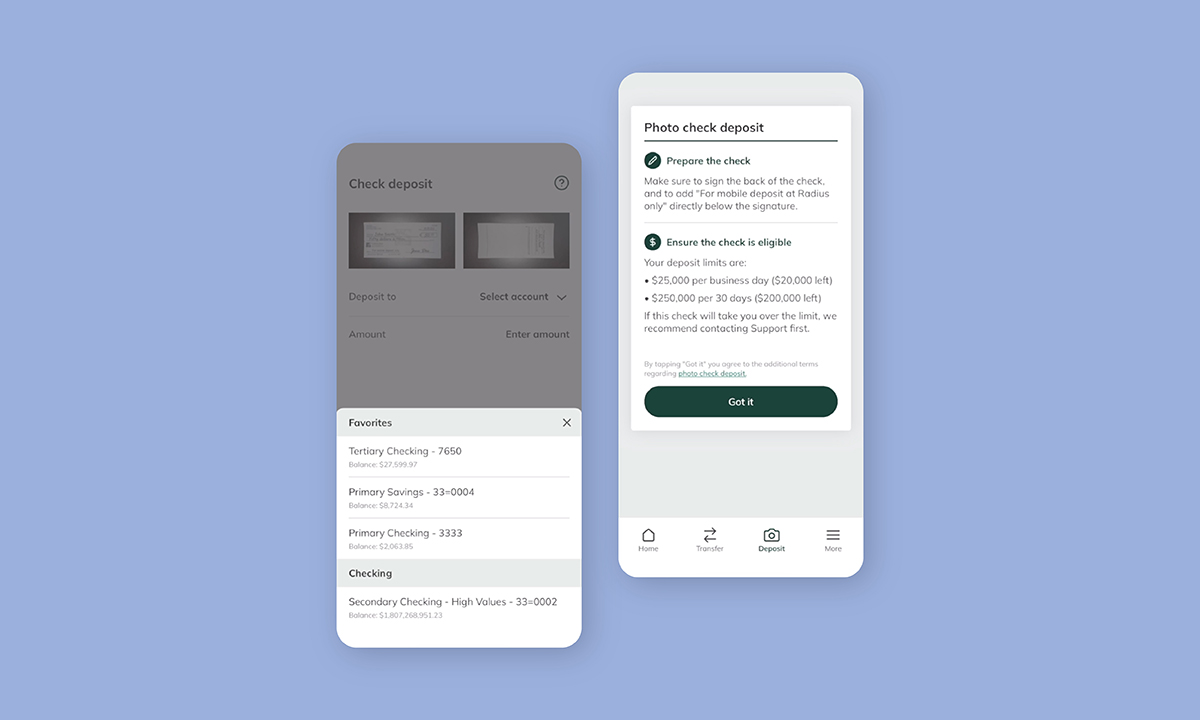 Check out the video walkthrough to get a full deep dive into the product. 
In an era where seamless and user-friendly experiences are now an integral part of banking, these improvements empower your users to deposit their funds with greater confidence. This, in turn, enhances the stickiness of your banking platform, fostering stronger customer loyalty and bolstering your position as their primary banking partner.