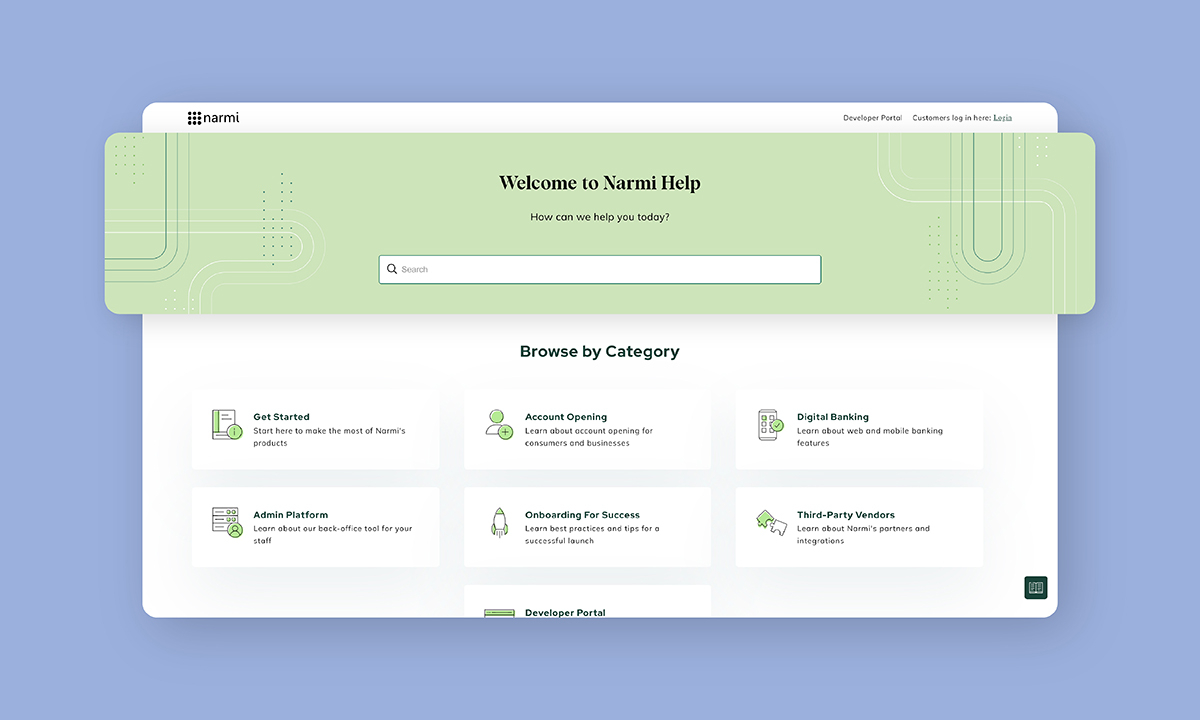 DATE:

AUTHOR:

The Narmi Team
All Updates
Digital Account Opening
Consumer Digital Banking
Business Digital Banking
Admin Platform
Business Account Opening
Support Made Simple: Welcome to the Enhanced Narmi Help Center
DATE:
AUTHOR: The Narmi Team
A top-notch Help Center that's simple, straightforward, and easy to use isn't just a nice extra—it's an absolute necessity. That's why we've put in the effort to give our Help Center a major tune-up, with a sharper design and enhanced functionality to better support you in your digital banking journey with Narmi.
The goal of our Help Center has always been to empower you with the resources and tools you need to get the most out of Narmi's platform. Whether you're looking to make the most of certain features, troubleshooting or just exploring the full spectrum of Narmi's platform, our Help Center is here to back you up.
And while the Help Center isn't a new addition to the Narmi experience, we believe in the importance of constant improvement and understand that as our product evolves, so should our support resources.
Let's dive into the improvements we've rolled out


Easier Navigation Experience: Finding what you need is the first step. That's why we've redesigned our Help Center to feature a new tree view navigation. This layout lets users see the full structure of our knowledge base, making it easier to move from one category to another. Plus, we've added subcategories packed with short, to-the-point articles for quick reading and skimming.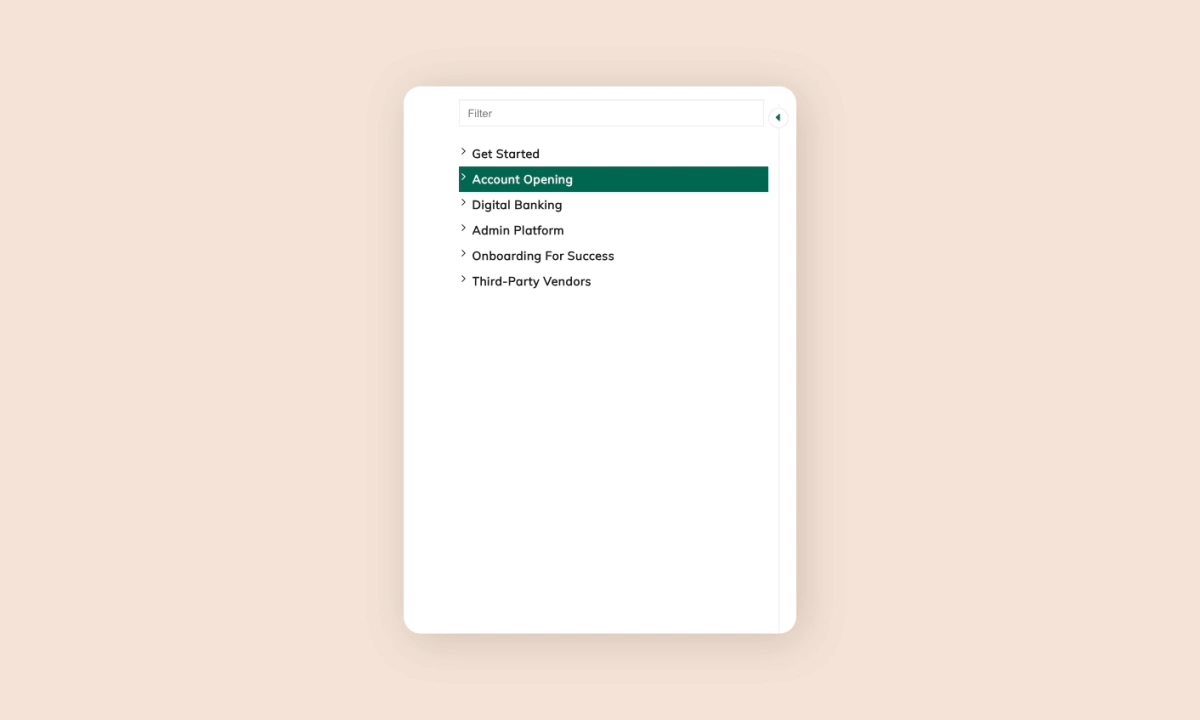 Better Search Functionality: Information is most valuable when it's accessible. If you're not sure where to start, just punch a keyword into our new search bar. This will bring up all the relevant articles, with your search keyword highlighted for easy spotting.
Printing, Sharing, and Downloading: Because sharing knowledge is kind of our thing. Now, you can print, share, or download a PDF version of any article in our Help Center. This means you can effortlessly hand over useful info to team members or keep a copy for yourself.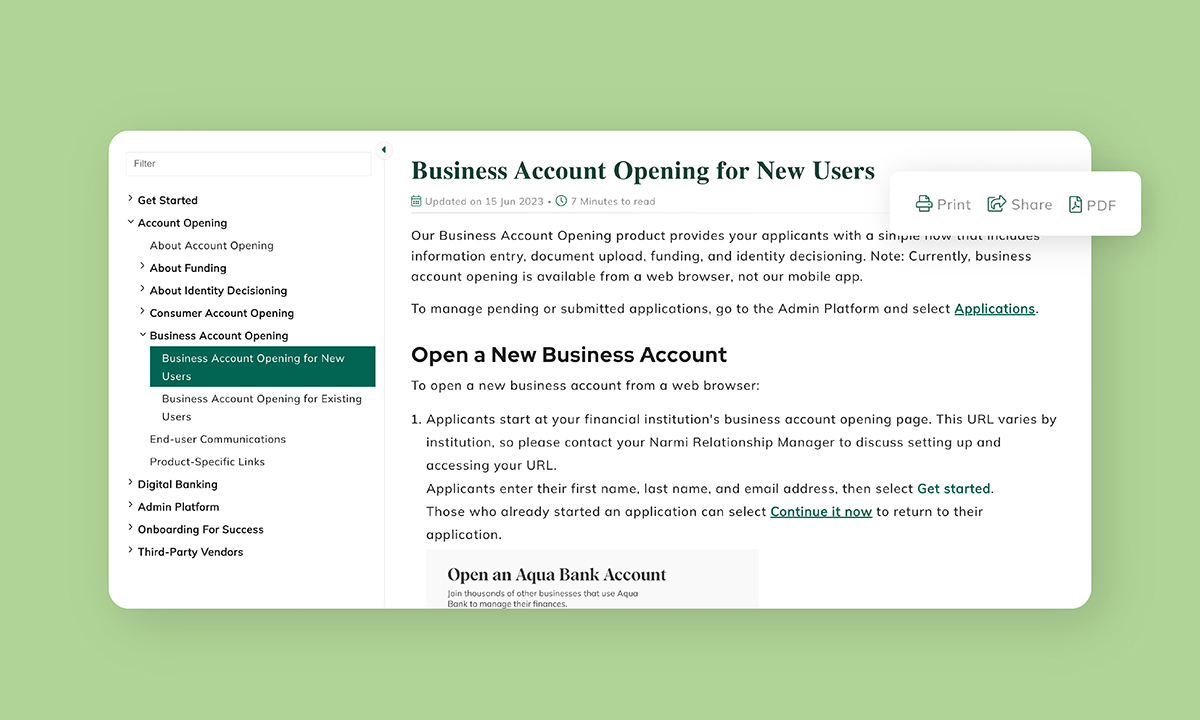 In short, the upgraded Narmi Help Center is more than just a handy tool; it's your go-to extension of Narmi's support team, working 24/7 to help you get the most out of the Narmi platform. Your success is our success, and we're committed to providing you with all the tools you need to make your Narmi experience as impactful as possible. Enjoy exploring the new and improved Narmi Help Center!