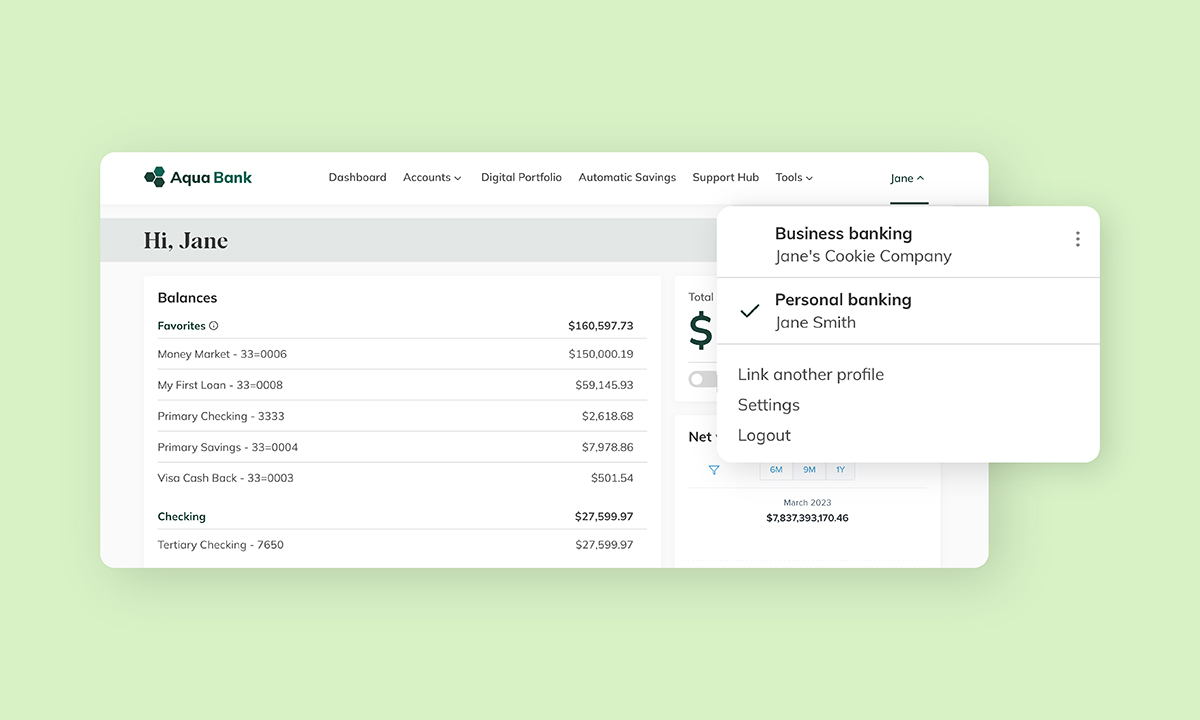 DATE:

AUTHOR:

The Narmi Team
All Updates
Consumer Digital Banking
Business Digital Banking
Switch between multiple accounts at once without logging out
DATE:
AUTHOR: The Narmi Team
Narmi is dedicated to delivering modern experiences for your banking users and is always raising the bar across the banking industry when it comes to adding user-friendly features to our banking platform. With that in mind, we are thrilled to announce our newest feature that saves time for users and in turn, strengthens their relationship with their financial institutions.
What is Unified Login? 
The Unified Login feature allows users with multiple accounts (consumer or business) to seamlessly toggle between each account without having to log in and out each time. 
Similar to how Google's Gmail or Netflix allows users to move between different accounts or profiles seamlessly, Narmi now enables users to do the same when they link an already existing account or open up a new account. Unified Login works with multiple consumer accounts, business accounts, or users with both a business and consumer account. 
Users will have increased flexibility in managing multiple profiles with the same security features and standards they are used to. Once logged in, users will complete the two-factor authentication if enabled by your financial institution. This can always be changed in the settings for each account. 
What is the impact of Unified Login? 
Logins can be a point of friction. Users have many usernames and passwords they have to remember every day - from their email account to their social media, to yes, their bank! Simply reducing the number of times they need to login to a linked account is a marked improvement to the user experience, helping users save time and the repetition of logging in and out. 
Time is precious. In today's world, users will stay loyal to platforms that are easy to use and help save them time. By streamlining the experience of moving between accounts, Unified Login will improve users' ability to access and manage each of their accounts, and in turn reduce user churn. With competition for deposits at an all time high, developing sticky user relationships through product enhancements such as Unified Login is paramount.
How can I enable this feature? 
Unified login is now live across all Narmi banking platforms on desktop! Unified login for mobile will be launching soon in the subsequent months. 
---
Watch our video below to get a live look at how Unified Login will show up on your platform.