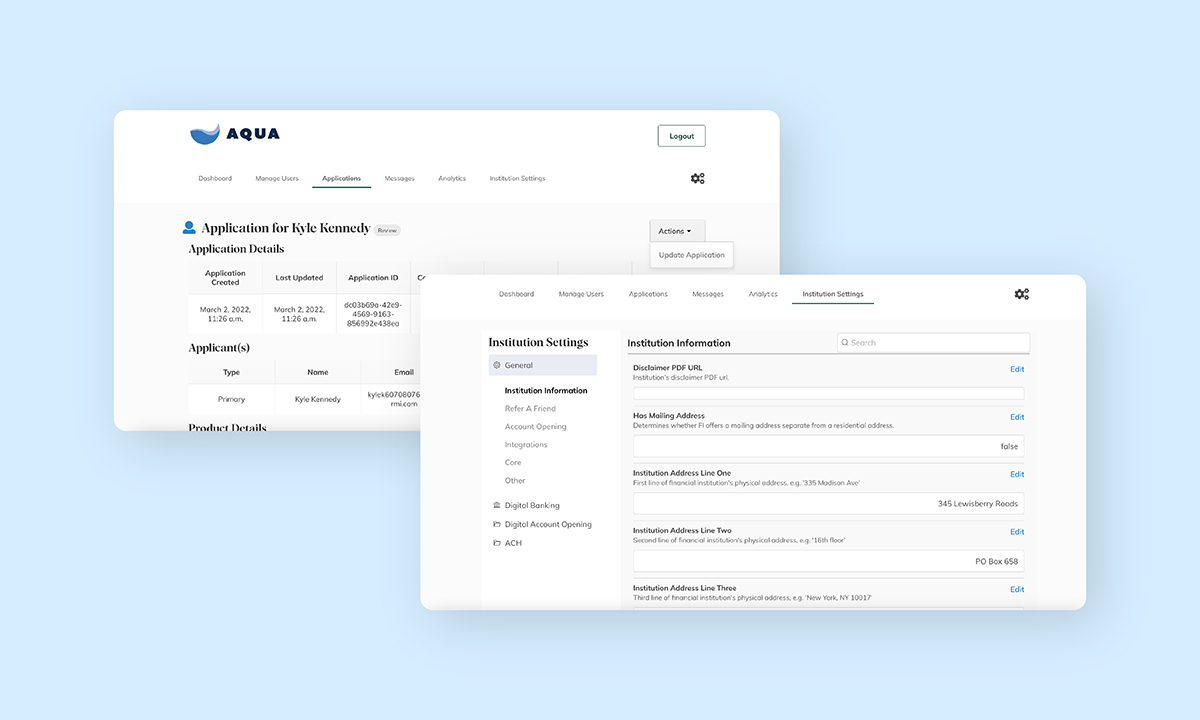 DATE:

AUTHOR:

The Narmi Team
All Updates
Digital Account Opening
Consumer Digital Banking
Business Digital Banking
Admin Platform
The power is in your hands with even more self-service capabilities
DATE:
AUTHOR: The Narmi Team
The latest additions to Narmi's admin platform are designed to give you control, save you time and ultimately reduce overhead costs. Narmi is dedicated to giving staff members increased flexibility when managing the digital banking experience and therefore reducing dependency on Narmi. With that in mind, we are constantly iterating to build a more self-service admin platform, designed to resolve issues faster and keep your community happy.
We've made three new self-service additions and one visual change to the admin platform:
Addition #1: Edit Applicant Information Directly in Admin Platform
Staff users can now edit digital account opening applications directly in the admin platform, by clicking on the "Update Application" button on the application page of a specific user. From there, staff users can edit personal application information like name, address, and email. The information will then be updated both within the platform as well as in the core banking system.
Staff will only be able to edit applicant information if the application is in the "Review" state – applicants in other states such as creating, opened, funded, or failed will not be eligible. This feature is available for staff users who have the specific permission "manage_applicant_information."
Previously, if there was an error in the application information, users would need to restart their application entirely. This functionality will allow staff members to better serve users in the review state if they have made any errors, therefore pushing their accounts one step closer to being opened.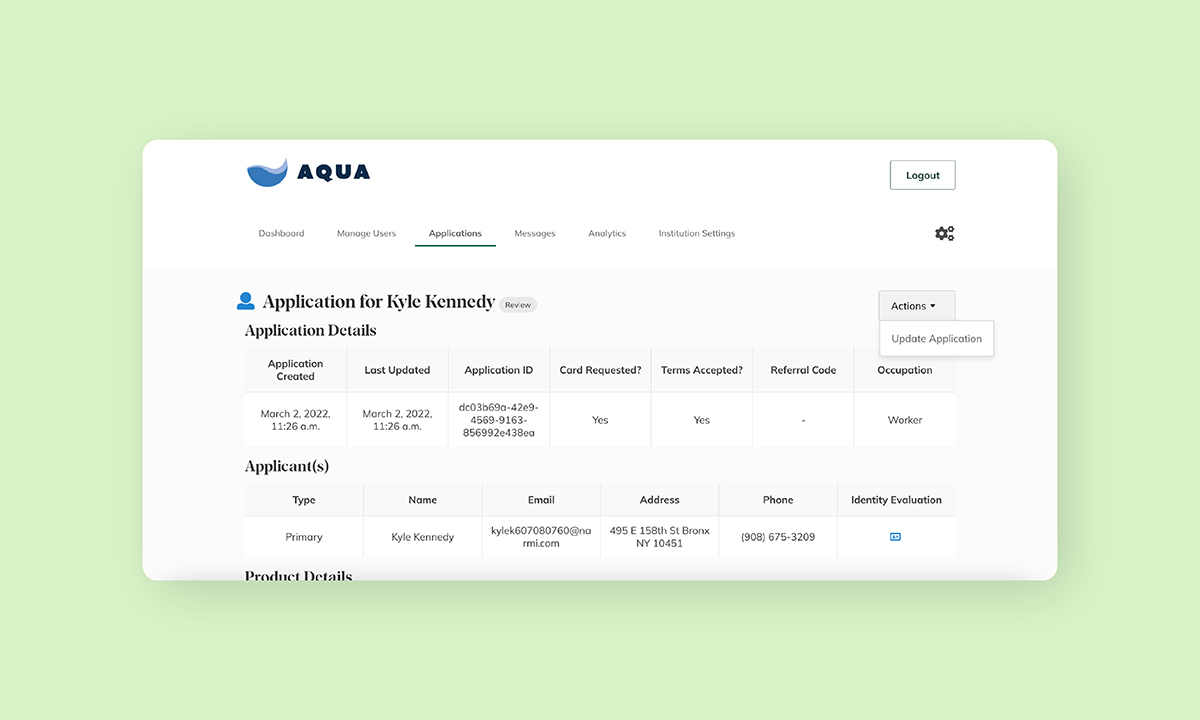 Watch the video here.
Addition #2: View Change History Within Settings
Within institution settings, under the "general" page, staff users can now view a "change history," or historical log of changes to past settings configurations. Staff users can click "edit" on any item (i.e. disclaimer PDF URL, institution features, etc.) and if they scroll to the bottom of the page, they will see an option to "View Change History." Once they click that, they will then have an option to "Hide Change History."
Staff users will have full visibility on past configurations, including the ability to see who made the change. If needed, a staff member could contact Narmi Solutions to revert back to a previous configuration.
Designed to help you better manage changes within the platform, this functionality is similar to the "Edit History" feature within Google Docs. Just like you can "open version history" within Google Docs and see every time a user starts making changes to the document, you will be able to retrace the history of past changes within institution settings.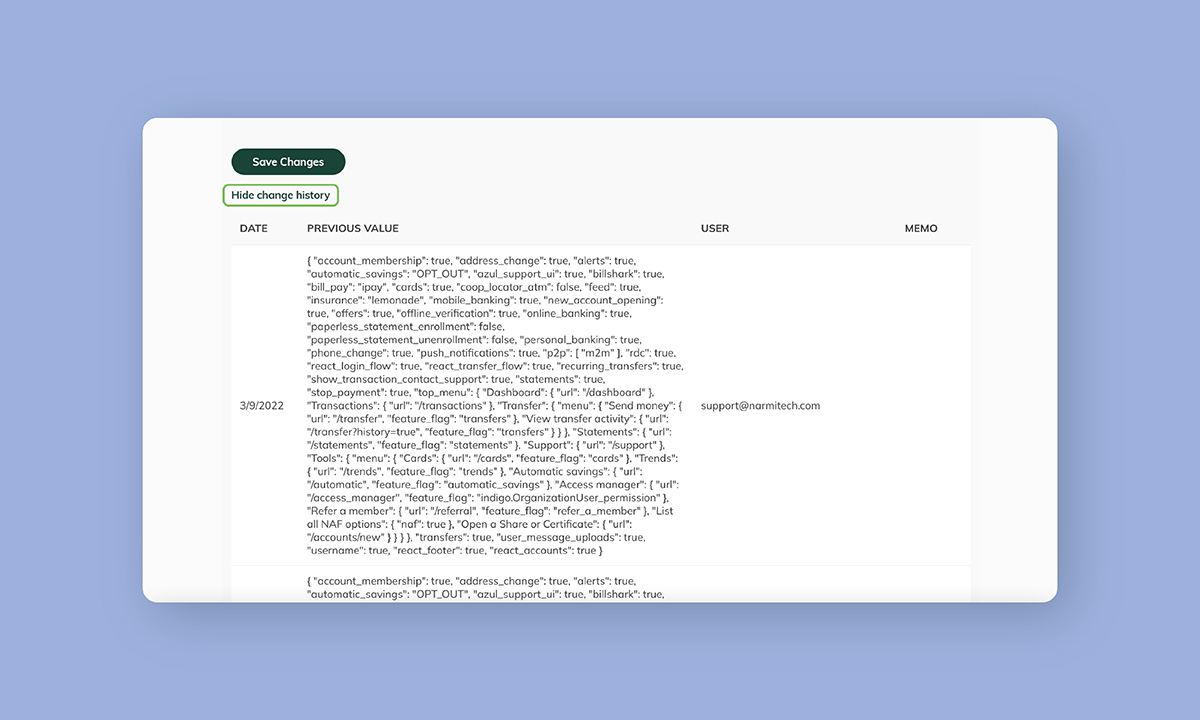 Addition #3: Remove Deleted Transactions Instantly
We've also given staff users the ability to manually remove transactions from appearing in the account holder's digital banking account that were canceled on the core. While this clearing of transactions is done automatically every night, staff users can now immediately remove the transactions if requested by the account holder. This feature will allow you to provide a stronger member or customer service experience, giving you the power to provide the account holder with peace of mind about their transaction, right then and there.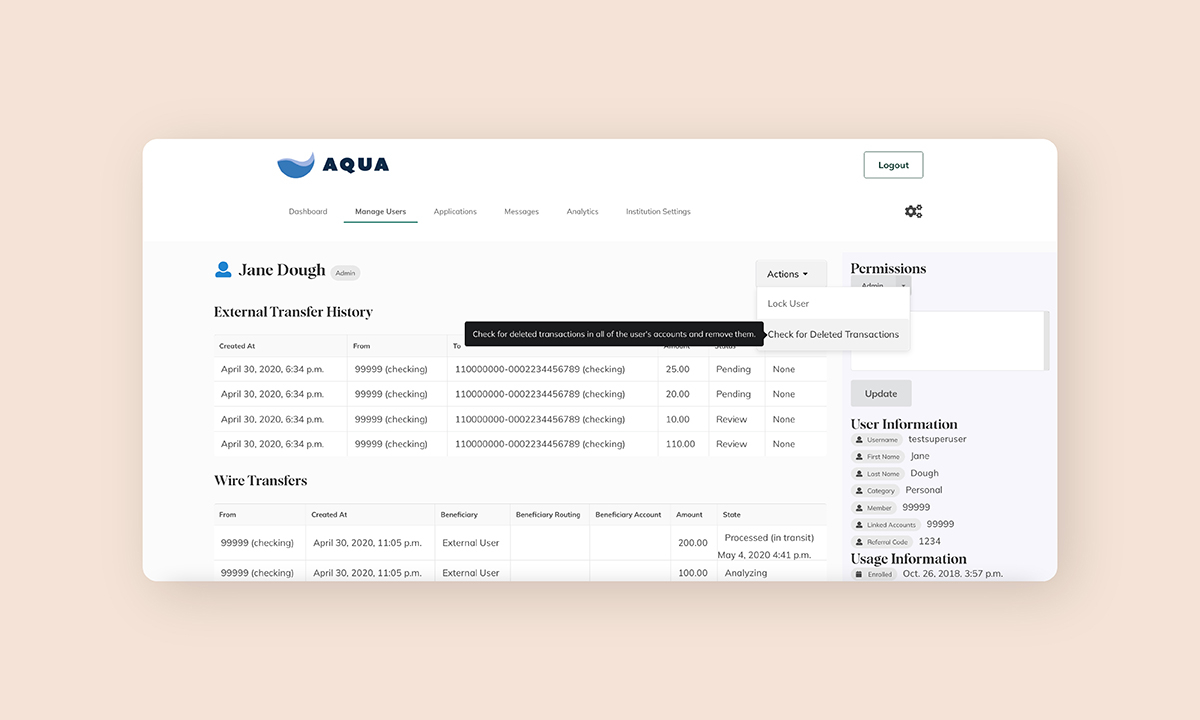 Watch the video here.
Visual Change: Updated Information Layout
We've also made a visual improvement to the user interface of our Institution Settings page, to make the information more digestible. Previously, the description of the institution information sat on the same line as the response.
In our new layout, we have broken the description and the response out into two separate lines. This helps clearly differentiate between the example provided in the description, and the actual value entered. This is a simple, visual change, but Narmi wants to ensure maximum clarity and visibility into institutional values.