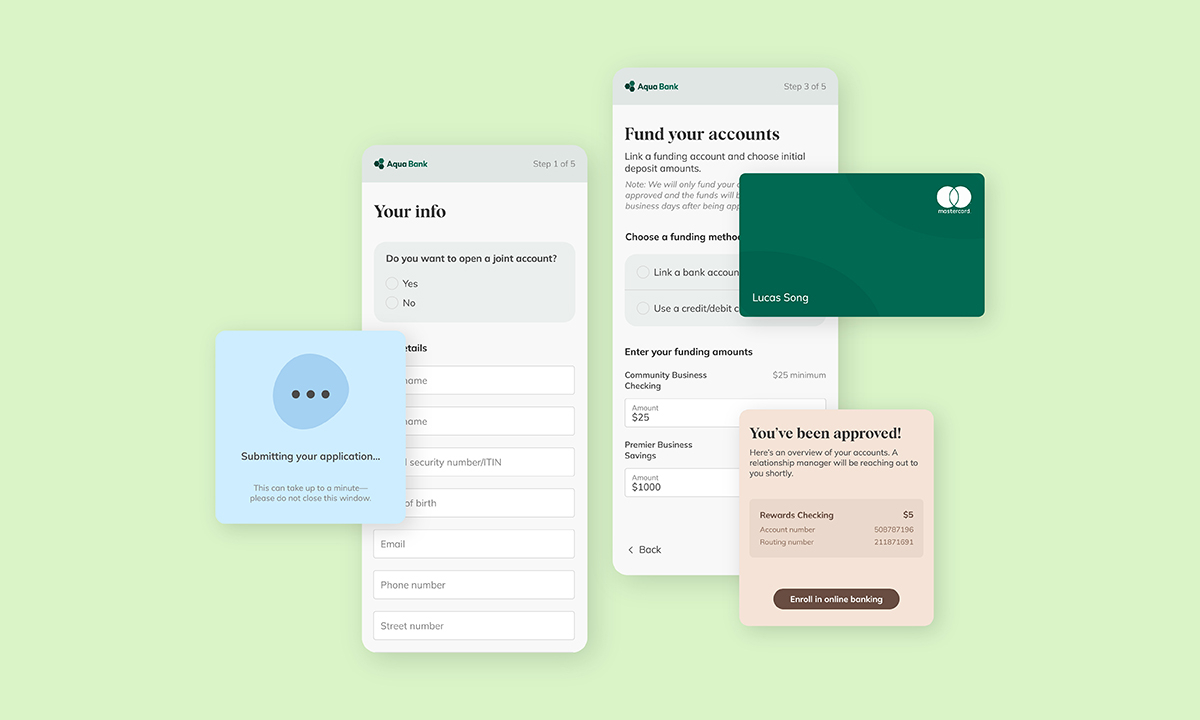 DATE:

AUTHOR:

The Narmi Team
All Updates
Digital Account Opening
Admin Platform
Unlocking Convenience: Introducing Our Enhanced Account Opening Platform
DATE:
AUTHOR: The Narmi Team
Narmi is excited to announce our enhanced Account Opening Platform, designed to elevate the overall experience for applicants while streamlining processes for staff. With these enhancements, we have made the entire experience even more convenient without compromising any of the core functionalities you have come to know and love. 
Why did we enhance the Account Opening experience?
To be where banking is going, constant innovation is a must. Narmi is an agile partner dedicated to delivering new ideas and continuous improvements. By listening to our customers, we uncovered areas that we could optimize to make opening an account through Narmi even easier.
What we built
We researched, tested, and iterated on the platform until we landed on an Account Opening experience that we believe will unlock deposit potential and maximize conversions. Some highlights of how our enhancements will make the Account Opening process even more convenient for both applicants and staff:
Three custom flows designed to optimize Account Opening and drive deposits at every entry point.
Applicants will now navigate through intuitive Account Opening flows that build trust with experiences customized to new applicants, existing users, and returning applicants.
The new applicant flow is our familiar 2.5-minute end-user experience that boasts an 80% application completion rate.

The existing user flow works to instantly verify existing users' identity, auto-filling applicant information from the core, and encouraging cross-sell in seconds.
The returning applicant flow converts abandoned users to funded accounts by giving applicants the ability to easily edit and submit previously started applications.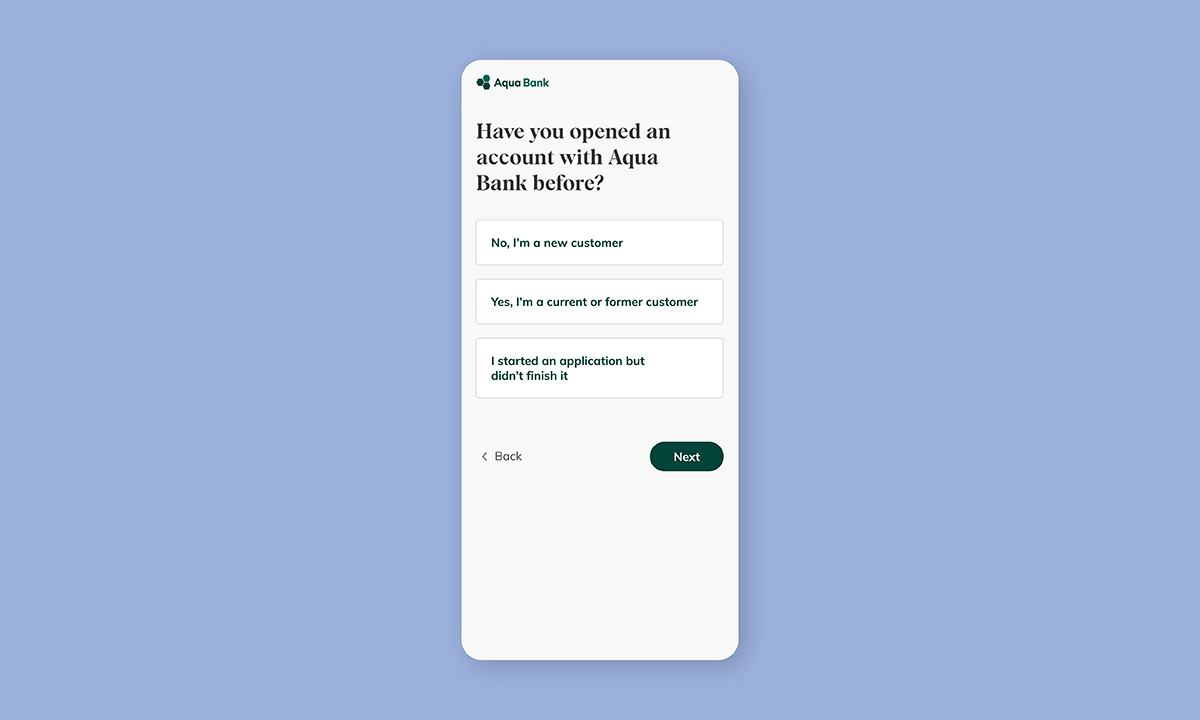 An even more intuitive and trustworthy user experience.
We've taken steps to enhance the user experience, giving users more control over the application and guiding them through the Account Opening process with confidence. We've introduced a progress bar that visually shows users where they are in the Account Opening process. Users can now go back and edit information from previous steps, and we've added a dedicated review screen where applicants can double-check and edit their application details before submitting.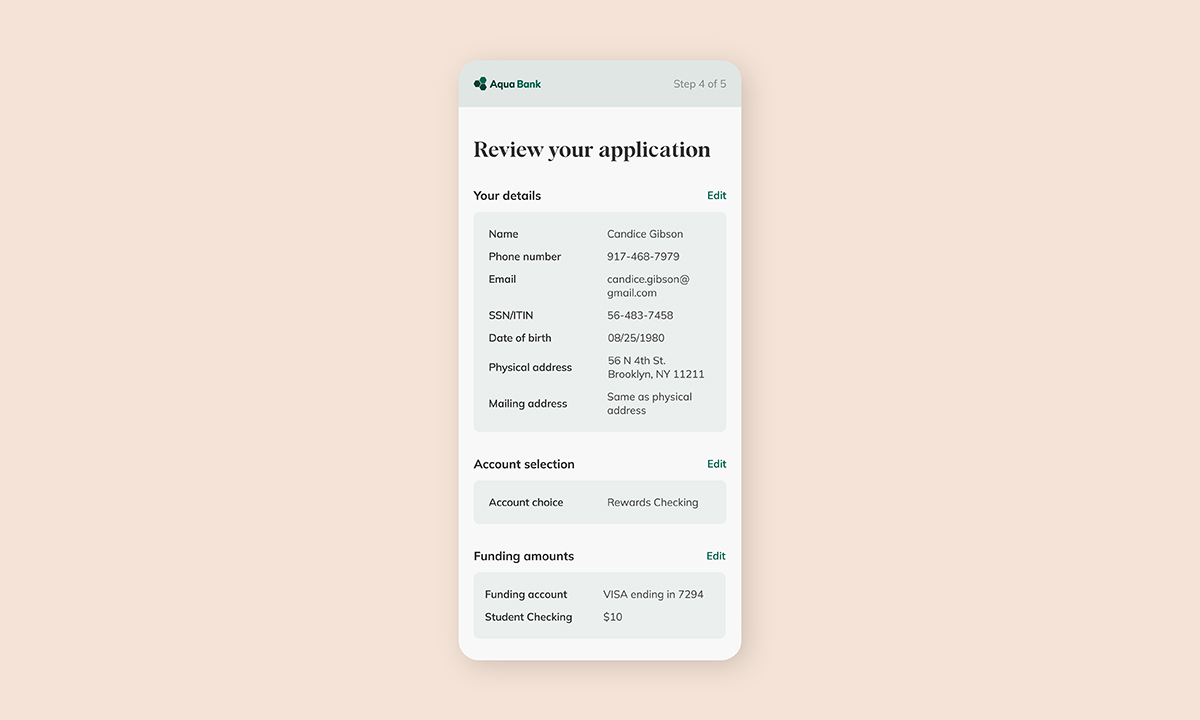 Empower your staff with customizable eligibility questions.
We've added a customizable and optional eligibility page that allows you to ask applicants screening questions. This feature enables you to track responses and provide clear error messages to applicants who may not meet eligibility criteria.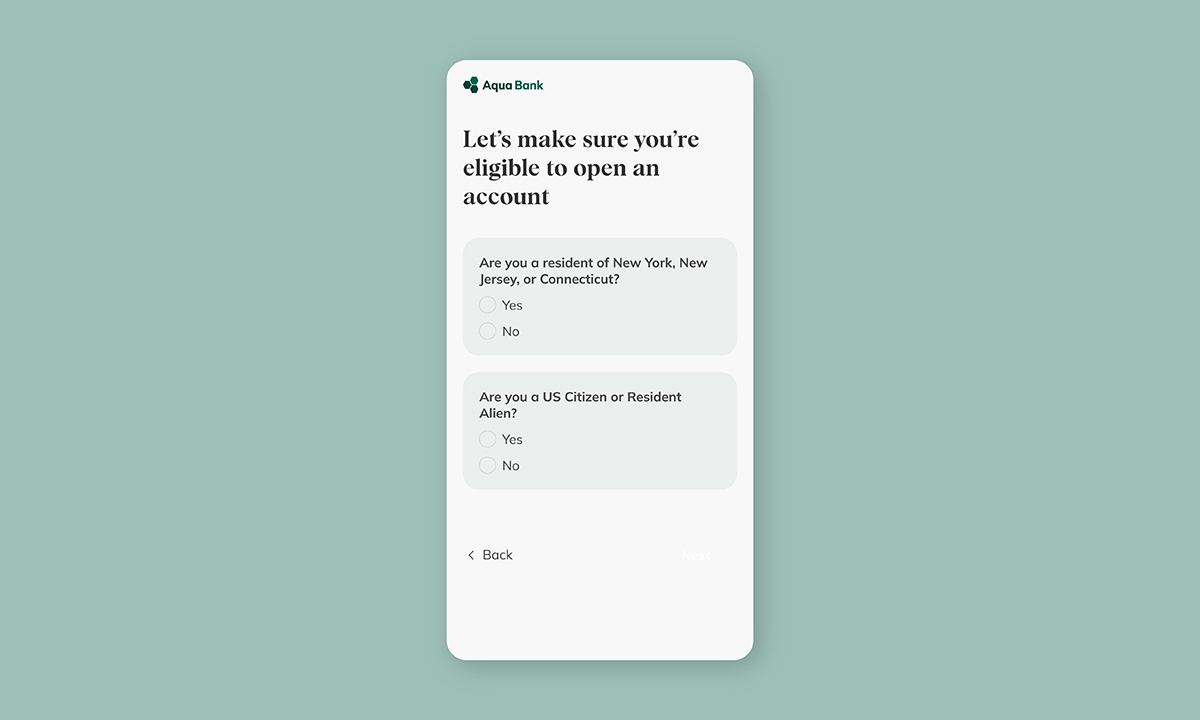 Add joint application requirements for minors.  
With our enhanced account opening product, we've added an Institution Setting that gives financial institutions the power to require joint applicants for minors. If enabled, any applicant who is a minor will not be able to proceed in the account opening flow until they add a non-minor as the joint applicant for an application.
Watch the video below where we walk through the new Account Opening experience:  
The process for getting the enhanced Account Opening experience
Many Narmi customers have already opted into this experience, as we are rolling this out in phases. If you still need to get this experience and would like to discuss your implementation timeline, please reach out to your General Manager. We're so excited for everyone to be with us on this journey as we transform the Account Opening experience!